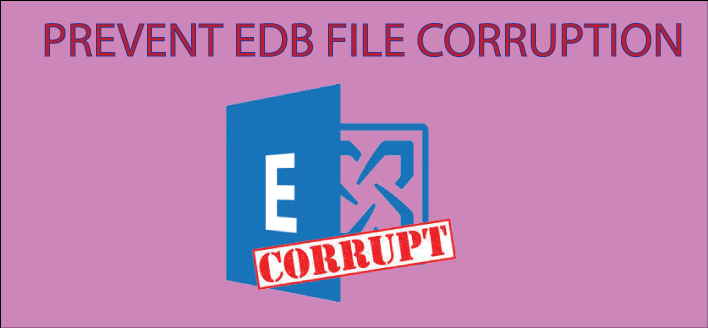 What is the EDB file?
An EDB file is the Exchange database files stored in Microsoft Exchange Server. Each Exchange Server creates one EDB file containing all the mailboxes (emails, calendar, contacts, attachments, tasks, etc.). The data stored in Exchange in the form of EDB file accessed by Extensible Search Engine (ESE) or JET Blue.
ESE is an indexed and sequential access method (IASM) to access the data stored in the Exchange Server.
Reasons for the Exchange EDB File Corruption?
Nothing is safe in the world of technology, therefore, we need to keep everything secure. Because of many reasons, the Exchange database gets corrupt and it leads to loss of important data. As it stores all the information it corruption may lead to high loss to the organization.
There are lots of reasons for the Exchange database EDB file corruption. Below are some reasons for EDB file corrupt.
Virus attack: It is one of the most common reason due to that EDB file gets corrupt or damaged and it becomes inaccessible. The virus may lead to a serious issue like hardware failure and you may lose your significant data.
Power Outage: Sometimes it may happen while working on the Exchange Server you come across sudden power failure, which in turn failure of the system making the EDB file unapproachable.
An issue with the Hardware: Poor quality of hardware always creates the problem or the malfunctioning of the system. Failure of hardware is possible due of overheating or poor ventilation, virus attack, bad sectors in the hard drive, failure of a motherboard, etc. which make you lose the crucial data, as all the information is stored in the hardware.
Software crash: Sometimes, failure in any of the software corrupt the EDB file. It happens when you have installed any third-party application in your system and that not working properly. It might also be the reason that there is an issue with the operating system.
Exchange Server crash: Because of the issue with the hardware/software or any other problem in the Exchange Server keeps crashing occurs a sudden shutdown. This is another reason where the EDB file gets corrupt and it might possible that you will not able to recover it.
Large data: If you have data, which may exceed the limit of the storage or the registry then EDB corruption takes place. As EDB file requires a large storage area, you should have enough space in your device.
Start-up issue of the device: You may face booting issue, as there could be a problem in the OS or in the BIOS. Hardware or Software issue can also lead to boot failure.
Dirty shutdown: You can also say it unpredicted closedown of the Exchange where you also get various errors related to it if you try to access datastore.edb file. Check how to repair Exchange database from dirty shutdown stage.
How to prevent Exchange EDB file corruption?
We always find people asking how to prevent from exchange 2010 EDB corrupt or database.edb corrupt, etc. Whether it is Exchange 2016, 2013, 2010, etc. any previous version if you do not want to lose data then do prevent your EDB from being corrupted. You can do it taking some preventive measures. Below is some way to prevent EDB file corruption.
Always keep an anti-virus software, which is good and can prevent the high risk of virus attack. It keeps EDB file secure from any kind of virus and hence prevents loss of data.
Keeps the good quality of hardware for storing data to avoid hardware failure.
Always keeps a backup of Exchange database regularly. If one gets lost, another one will be with you keeping you safe from severe loss. If you do not keep the backup regularly, you may lose significant data.
Keep a habit of checking the process of the device or the Exchange as it is working properly or not. Constantly implement the process of its maintenance check-up of the database.
Try to do Exchange Server configuration and installation process through an expert.
Ensure that you have enough space on your hard drive where the EDB file is stored and growing.
Use MS Exchange Server Best Practices Analyzer (ExBPA) regularly.
If the above prevention method does not work then you can use the Eseutil EDB repair tool. It helps to recover corrupt EDB file. Alternatively, you can also try the third-party solution for Exchange EDB Recovery process.
Conclusion: Finally, I would like to say that there are numerous causes of Exchange Database (.edb) Corruption and you need to keep your Exchange database safe, as EDB file contains the most important data of your organization. Causes of Exchange Database (.edb) Corruption & its prevention?