In the communication field, the trend of the email client is very necessary and permanent which is needed by everyone nowadays. Therefore, data transfer from one email client to another is also a common problem and one of them is "How to Convert Thunderbird to PST?" or "How to export PST from Thunderbird?".
So if you are looking for the solution of these questions then this post is the right guideline for you.
About Mozilla Thunderbird and Microsoft Outlook
Mozilla Thunderbird is an open-source application that saves data to local drives in mbox and Maildir, although Thunderbird export emails in EML format using the drag n drop method. In contrast, to open or import data into Outlook, the user needs a PST or MSG file.
So how to convert Thunderbird to PST is a very exploratory topic among users.
On the other hand, Microsoft Outlook comes with more advanced features which easily meet the latest need for communication and also provide hassle-free service.
Try Mozilla Thunderbird to PST Converter to convert Thunderbird emails in PST, EML, MSG format and get more benefits
Unlimited Conversion
100% Secure Output
Complete Migration
Method of converting Thunderbird MBOX to Outlook PST
Any user who is willing to Export Thunderbird to Outlook PST can choose any one of the methods mentioned below.
Method 1: Installing the Eudora Email Client
Older versions of Outlook have the option to import Eudora mailboxes, with the help of which the user can also migrate Thunderbird emails in PST.
Install Eudora on the system where the Outlook application is already installed and configure it with a dummy account.
Copy and paste the Thunderbird mailbox to Eudora's mailbox location (C:\Documents and Settings\USER\Application Data\Qualcomm\Eudora\)
Now change the extension of the mailbox as inbox mbox to inbox mbx. MBOX, MBX, and MBS are all family formats and form the same data structure.
Run Microsoft Outlook email client and click on the File tab.
Select Import-Export tool option >> Choose "import internet mail and address" in the pop-up window and press the next button.
Choose Eudora (Pro and Light) 2x, 3x, 4x, option in wizard then click on the Next button.
Browse the Eudora file location and select your Mozilla Thunderbird data then press next.
Save the destination where you want to import Thunderbird mailbox in PST format.
Now click on the finish button and wait for the process to end. After that, you can restart MS Outlook and check the mailbox.
Method 2: Using Outlook Express email client
To export PST from Thunderbird, first install and configure Outlook Express in the same system as MS Outlook.
We know that Thunderbird exports emails in EML file format but it cannot be imported directly into Microsoft Outlook. So the user needs a medium and Outlook Express is one of them.
After exporting Mozilla Thunderbird email in EML format, run the Outlook Express application.
Click the Add File button and then press the Import email messages option.
Select the Thunderbird EML mailbox and press the OK button
Once this is done click on the Finish button.
After that, the user can follow the first method to import Outlook Express data into MS Outlook and select the Outlook Express option in the Import-Export wizard instead of Eudora.
Limitation of the first & second method
The user does not follow the above method with the latest version of MS Outlook.
You can only migrate one Thunderbird mailbox at a time.
There is every possibility of the folder structure being shattered
Method 3: Mozilla Thunderbird to PST Converter to export emails from Thunderbird to PST
If you don't want a long walkthrough method then this simple solution is just for you. With the Mozilla Thunderbird to PST converter, any user can convert Thunderbird email to PST in a few easy clicks.
This is a very useful and efficient program that provides accurate results with multiple features to a user. The simple interface of the solution does not require any technical knowledge and you can export multiple mailboxes from Thunderbird to PST at once.
Steps to convert Thunderbird messages to PST
Download MailsDaddy Thunderbird to PST Converter Tool, install and run on any Windows-based operating system.
Launch the program and click the Browse button >> Press the Auto-load button to load the entire TB mailbox at once.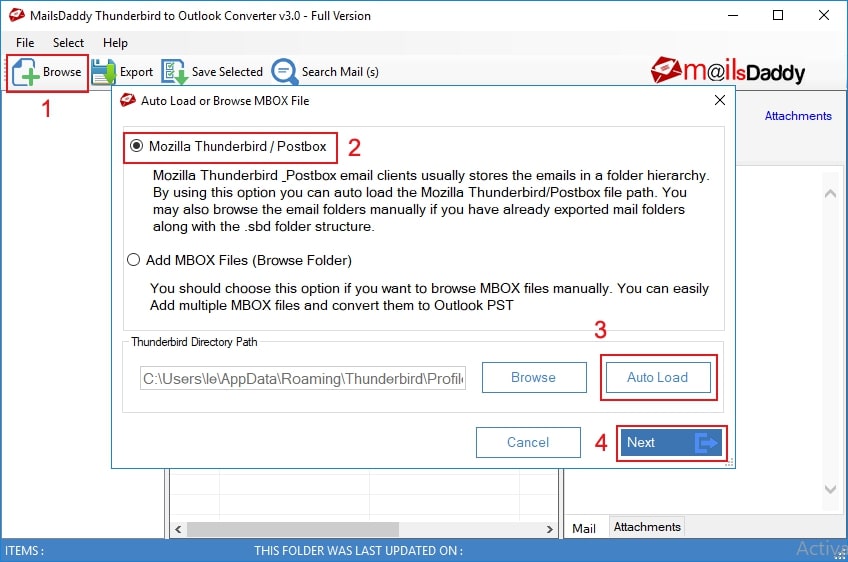 (If you don't have a Thunderbird mailbox installed, you can also browse manually.)
After loading and scanning the mailbox, click on the Export button and select PST file format with a single or separate PST conversion option.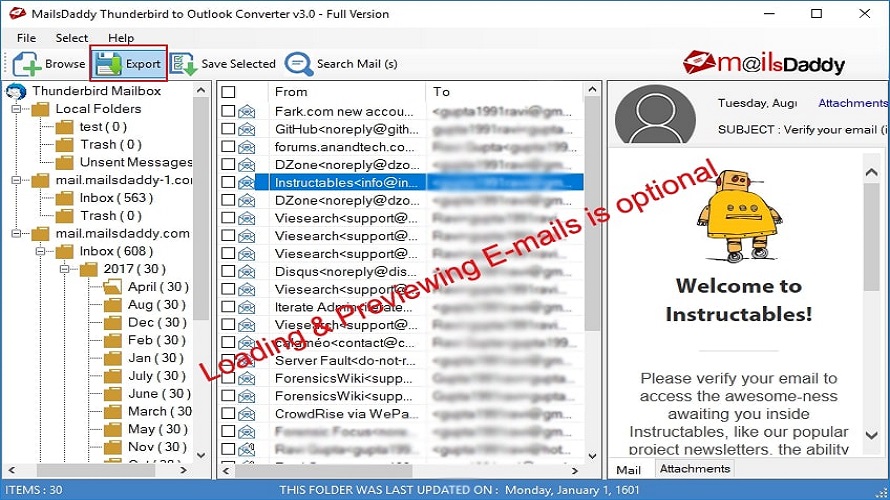 Browse the destination after converting and then press the Export button again to save the data.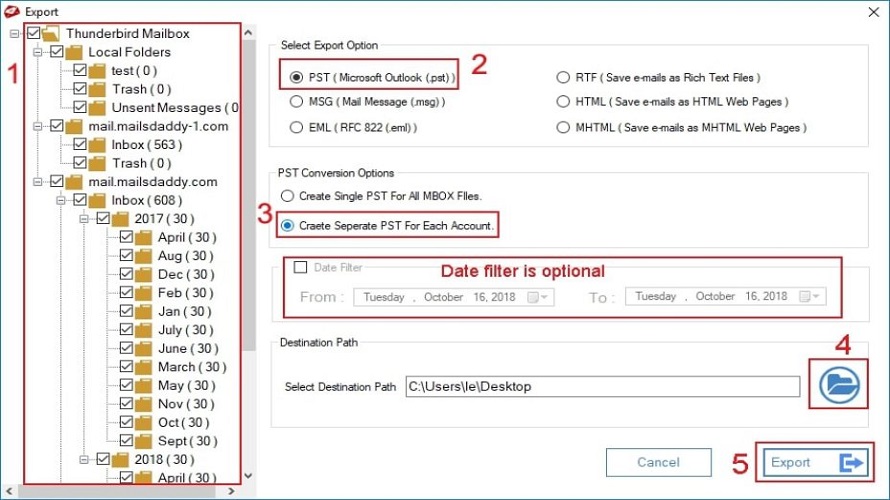 You will see a process window of Thunderbird to PST conversion, so wait for it to finish. After that, you can go to the destination and open the data in Outlook 2019, 2016, 2013, 2010, and other earlier versions.
Conclusion
Here we have described how a user can use manual or automatic solutions to export Thunderbird mailbox to PST format. Although the Manual method has some limitations, you can use it as per requirement. You can also test the free trial version of Mozilla Thunderbird to PST solution and export 20 emails from each mailbox.
Read more: How to save Gmail Backup Offline?