In today's era phone plays a significant role like a friend or colleague without whom a person can't feel complete. There are different varieties of a phone such as Android, Google, and iPhone. Apple launches the iPhone which grabs the user towards itself due to amazing and interesting features. People keep their personal data like bank details and social media data. Generally, iPhone lovers keep their phones very safely and protectively because of the higher budget and dream phone. Unfortunately, some circumstances held and iPhone gets lost or stolen then there is a need to get back as soon as possible. Misuse and exploitation of data that is stored on the iPhone are very common if it goes in the wrong hand.
Various Methods to track a lost or stolen iPhone
1. Use the "Find my iPhone" app
2. Using Google Timeline
3. Using Google photos
4. Using location tracking apps
5. Using Apple's Family sharing apps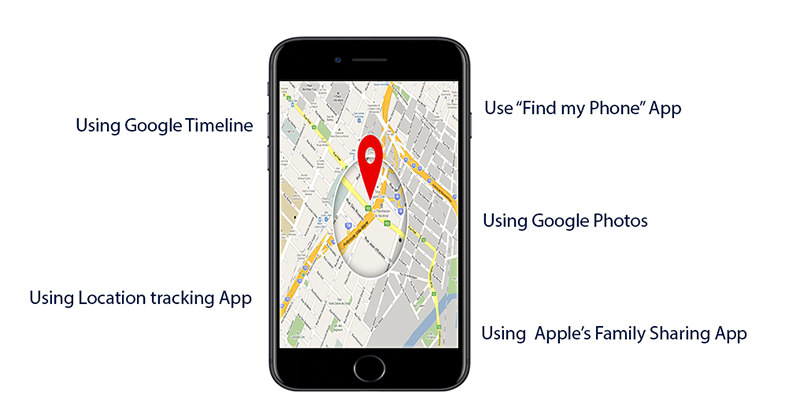 Use the "Find my iPhone" app
1- If your phone gets lost – If "Find my iPhone" app is enabled on your iPhone then do the following steps:
~ Locate the Phone and protect the phone by enabling the lost mode or erasing data remotely so, that it can't get misused by wrong persons.
2. If your phone gets missed – You will follow these steps:
~ Sign in to icloud.com on your system.
~ Click on "Find my iPhone" link at the bottom and click on find my iPhone interface, select your lost iPhone via all devices drop-down menu. The app starts tracking your iPhone location on the map.
After getting your location on the map, you do the following
Play sound if your device is nearby you.
Activate Lost Mode if your device is away from you.
What does Lost Mode do?
Lost Mode remotely locks the device and displays a message on your phone number. It also keeps tracking of your device location and erases iPhone data remotely. In iPhone data remotely you can track your phone but data is prevented from getting into the wrong hands.
Using Google Timeline
If you have turned on location services and location history on Google then Google's timeline record all the location of your phone. When your phone gets misplaced then this timeline helps to record all your last location this is helpful only in one case when iPhone is switched on with internet connection.
How to see the last location of your iPhone
Visit <com/maps/timeline> on your computer.
Sign in to Google account.
Select the date and see the last reported location.
Using Google photos
If Photos captured from your lost iPhone and Google Photos location sharing enabled in your iPhone then you can easily get your phone location. Visit <photos.google.com> and check any new photos uploaded then you will get the upload location or device location.
Using location tracking apps
There are various location tracking apps available for the iPhone that provides real-time data track like FoneMonitor, cellphone GPS Tracker, MapQuest which tracks the location of your missing device.
Using Apple's Family sharing apps
Family Sharing apps used to track your iPhone and locate your family member devices via the "Find My iPhone" app. The member can also sign in to icloud.com to locate the missing phone.
Conclusion
In the above blog, you will get the solution to find the missing phone. The smarter and best way is to use "Find My iPhone" to track or locate the missing or stolen devices. Other than that there are few third-party software to track the location, but this one is only useful when you have installed the software on your phone before missing.
Read more topics:
Recover Deleted History of Internet Safari on Mac Book
Difference between MOV and MP4 video format