Mozilla Thunderbird is a great email client cross-platform application that provides worldwide service. But after the advent of Microsoft Outlook, users move towards it due to more convenience and advanced features.
In this new era, users are looking for a solution to export Thunderbird SBD to PST file format. Whereas Thunderbird SBD mailbox saves two different types of files: .mbox (in hidden form), and .msf file.
There can be many professional and personal reasons for doing SBD to PST conversion, so it is appropriate to know the solution by explaining them.
What is a Thunderbird SBD Mailbox or Folder?
When a user wants to change Thunderbird SBD to Outlook 2019, 2016, 2013, and other older versions he is actually trying to move the subdirectory of the mailbox.
Because the actual Thunderbird messages are in the mbox extension along with its attachment and the MSF file stores the headers and mail summary and not the entire message.
It can also be understood in this way that sbd creates two sub-folders in the folder hierarchy in which the user saves the data. For example, a folder Thunderbird creates in default location as file-name.sbd then it will automatically add MBOX and MSF file corresponding to that file-name.
Effortless method to export Thunderbird sbd to pst format
To migrate single or multiple Thunderbird sbd folders to Outlook PST format, the user cannot use manual methodology with full accuracy. So, it is recommended to use professional application software like MailsDaddy Thunderbird to Outlook converter tool.
This software provides single or separate PST files for all Thunderbird sbd files. It does not require any technical skill or Outlook installation to perform the conversion. Once the sbd file is exported to pst format, the user can easily import Thunderbird sbd to Outlook 2019, 2016, 2013, 2010, etc without any hurdle.
How to work with software to migrate Thunderbird sbd to PST?
Follow the step-by-step procedure to move .sbd file to .pst file format.
Step 1: Download SBD to PST Converter (also known as MailsDaddy Thunderbird to Outlook Converter) and install it on any Windows OS.
Step 2: Launch the application and click on Add file button and then hit on Auto-load. This will load the entire SBD mailbox in a few minutes.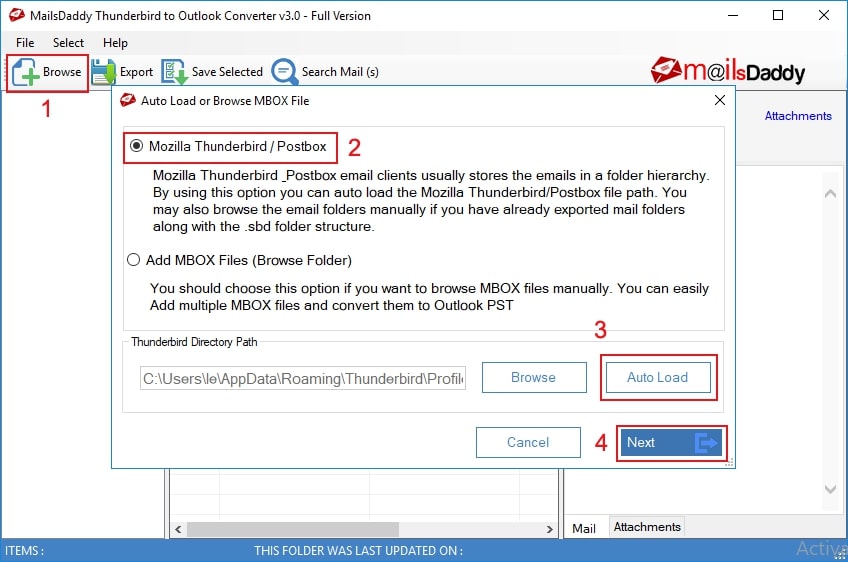 Step 3: After the mailbox is loaded and scanned, hit the Export button to initiate the batch migration from Thunderbird SBD to PST.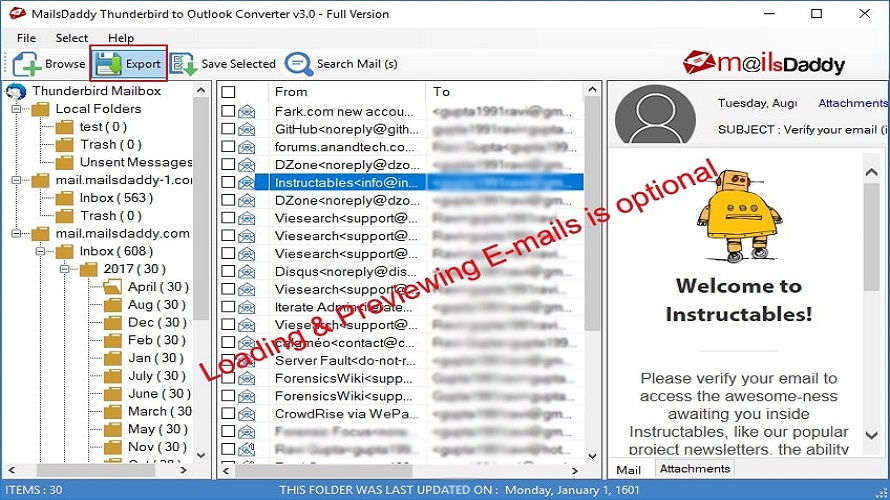 Step 4: Choose the PST file format and a conversion option: Single PST or Separate PST for all SBDs.
Step 5: Browse the destination and press the Export button to save the exported sbd file in pst file format.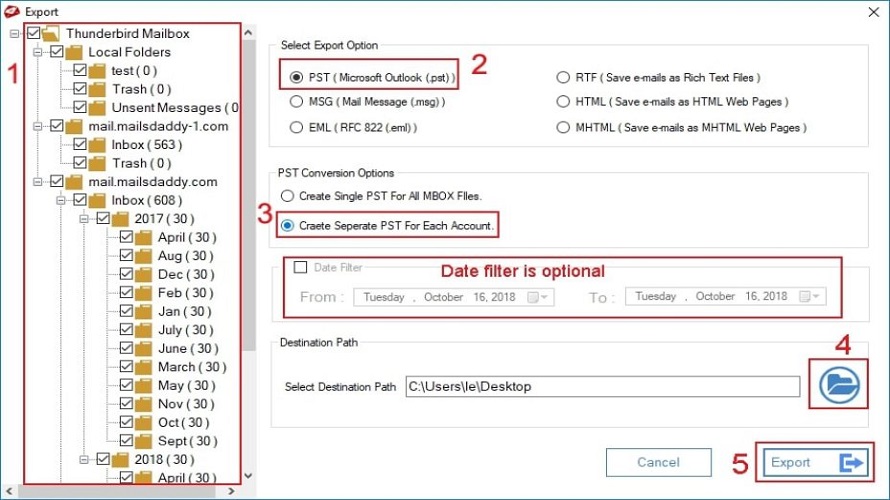 Step 6: Now wait for the end and press the OK button when the confirmation window appears.
Conclusion
For a lot of advanced features of MS Outlook, users are attracted towards it and want SBD to PST conversion. In this blog, I have explained the easiest and most efficient way to convert Thunderbird SBD to PST format.
Any user who wants to use this solution can test the free demo version first and migrate the first 20 sbd emails from each folder to pst.
Read more: Change Microsoft Outlook Password