Google takeout tool created by Google data liberation on 28th June 2011. This tool allows the user can easily take a backup and download his data which data stored in a Google service like Gmail, Google Drive, Google+, etc. this tool also has a 15 GB storage. The user can easily take a backup of Gmail in MBOX Format via use the tool Google Takeout.
Let's see the importance of Gmail backup & Google Takeout tool-
Save you from Unauthorized Access– The user must save his data from unauthorized access. Nowadays hackers and invaders always search for vulnerabilities or loose-points of email accounts. Gmail account is very important to the user as it contains data of much important information, contacts, and meetings, which is very important for any user; the loss of email is not right for any user and company. Google has provided a tool for Google takeout with the help of this tool; the user can back up all of your Gmail data and secure your data.
Due to suspicious activity, Google suspended Gmail accounts- Sometimes there is a lot of suspicious activity in the user's e-mail, which is against Google's terms. In this condition, Google may suspend a user's Gmail account, causing all the data from the user to loss. The user uses the Google Takeout tool, to help save or secure your data. Google also provides high data protection and data security to its user. But some unauthorized person/company always try to break security and grab the information.
To avoid this, pay attention to some points, such as users, not sharing data from illegal companies, keeping your Gmail account safe from internal threats, users can stop tracking your email and make more space for your mailbox.
Gmail backup in MBOX Format via Google Takeout-
The tool provides two options to take a backup of Gmail emails in MBOX format.
1- Backup All Gmail Data in a Single Folder
2- Export Gmail emails to MBOX with same Folder Structure
Backup All Gmail Data in a Single Folder-
1- First of all, open your Gmail account and type Google Takeout in the new tab and press Enter.
In Google, Takeout Tool selects Google Product, which only wants to back up the email. And now scroll down and enable mail then click next button.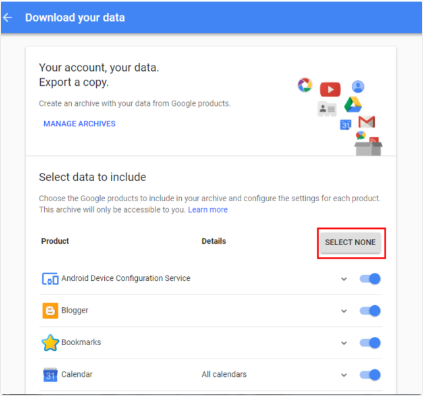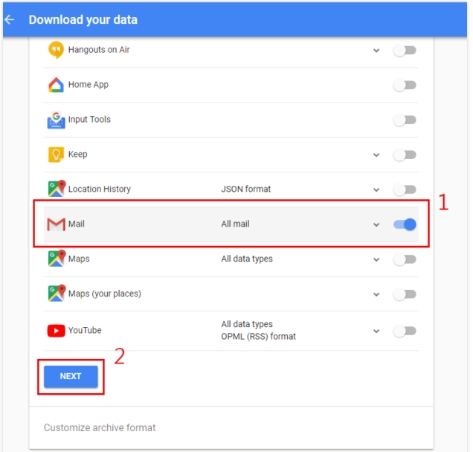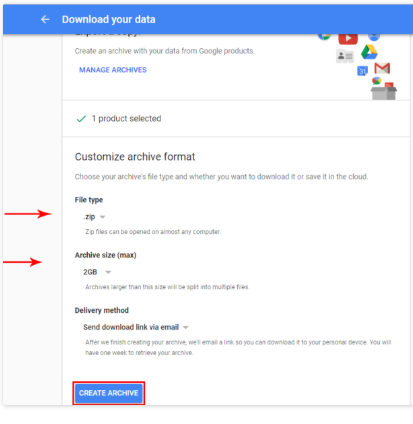 2- With some options, the open new screen first selects the file format like .zip, .tgz, etc., but .zip format is the most common format for using user selection in Zip format. Now selects the archive size is 2GB because the user increases the size. The zip file will not support some older window operating systems. After fill, option-click on Create Archive.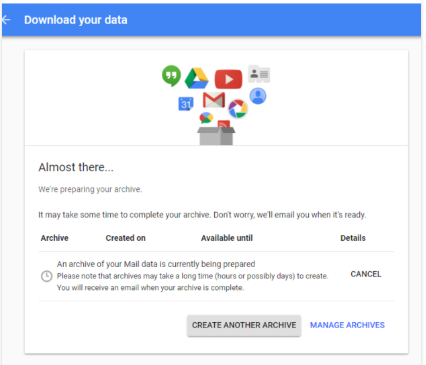 3- After clicking on the archive option, a window appears on the screen that starts after the Google backup process is complete when your backup is ready then the user can see in your inbox in the window.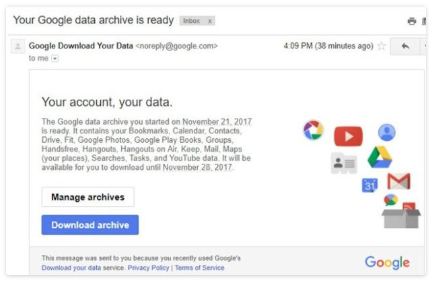 In this process, the user can store all Gmail data in a single folder.
Export Gmail emails to MBOX with Folder Structure-
1- The second process is similar to the first process, but the only difference is that the user can back up his data by the selected folder hierarchy. Now select the important folder that has to be backed up and click on the OK button.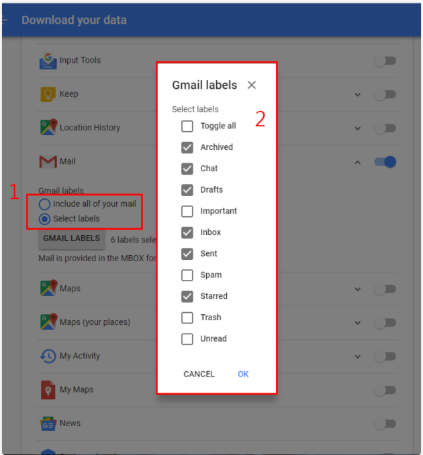 2- Now scroll down the page and click on next.
3- Select the format .zip and the archive size(Set by Default) in 2GBand click on Create Archive.
After complete, all process the user's select folder Gmail data backup is export into MBOX folder Structure.
Conclusion– I have explained in this blog how the user can take his Gmail data with the help of Google takeout tool and Export backup data in MBOX format in Window PC. User can easily take backup by using Google Takeout tool and save or secure your data. If the user Gmail data loose it can easily get back his data.
Related Information – How to Import CSV Contacts in MS Outlook