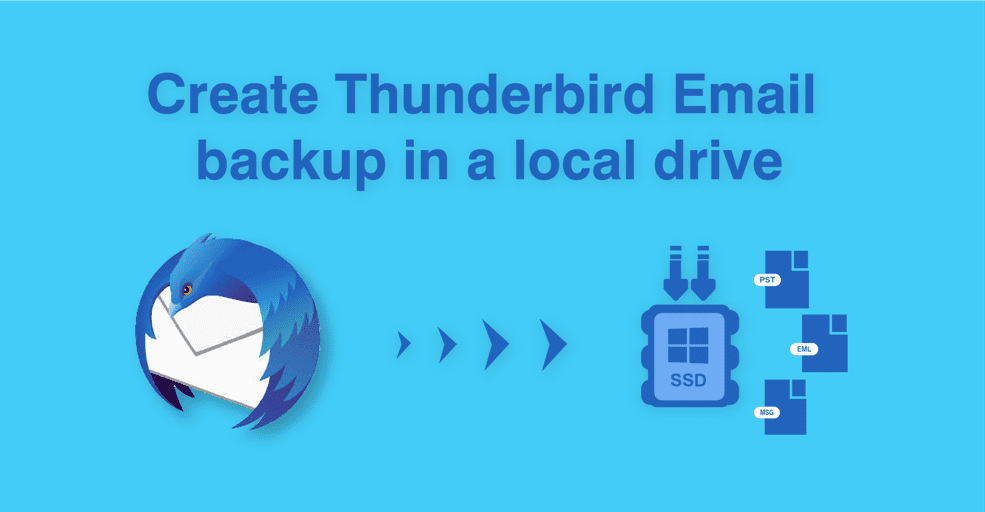 If you are thinking of backing up Thunderbird mailbox, then this post is going to prove to be very beneficial for you. Because, it will tell you three amazing ways to backup Thunderbird email.
After reading this guide you will not even need to go to any other post, I am sure.
Why it is necessary to back up Thunderbird messages?
Thunderbird is a very professional email client that handles messages, contacts, calendars, tasks, etc. efficiently like a champ. But it is necessary for the user to save Thunderbird data by taking backup in default mail or in any other mail format because the problem does not come by informing anyone.
Let's look at some facts that lead to mailbox loss and corruption
Large mailbox conversion or broadcast
On the go for system update and maintenance
Having a virus in the system can damage your mailbox
Window crashes can also lead to data loss because Mozilla Thunderbird stores mailboxes in C drive.
About Mozilla Thunderbird Mailbox & Formats
Mozilla Thunderbird is an open source email client, chat and messenger that provide worldwide service. It includes a variety of extensions for different purposes. Most users know that a default Thunderbird profile stores the .sbd (sub-directory folder), .msf (mail summary file) and .mbox (mailbox) formats.
So when a user wants to back up Mozilla Thunderbird then the .mbox file format is used.
Backup Methods for Mozilla Thunderbird
Here we will use 3 different methods to back up Thunderbird email and by each method we will save Thunderbird backup in different formats. So you can use that method in whichever format you want to backup.
Method 1: Use Import-Export Tool to make Thunderbird emails backup
First, install the ImportExportTools add-on in Mozilla Thunderbird and then restart it.
Now, choose a folder or select all the emails you want to back up and right-click on it.
Go to ImportExportTools NG >> Export Folder >> EML file format.
Select a location to save the Thunderbird email backup in EML format and then click on Select Folder.
That's all.
You have successfully saved all the emails as a backup on your hard disk. Now users can open this mailbox in any EML based email client, even Thunderbird.
Method 2: Create Zip file backup for all Thunderbird emails
Press Windows+R keys and type %Appdata%, then click the Enter button or follow the path: C:\Users\Username\AppData\Roaming
Scroll down and find the Thunderbird folder then right-click on it
Go to Send to option and click on Compressed (zipped) folder.
Now wait for the compress process to finish until your Thunderbird folder/email is converted to a ZIP file format. Lastly you can move it to any other location or system.
Pitfalls of manual backup
The above methods only provide the backup of MBOX and EML file format, so some users here are not completely satisfied.
The process consists of several steps and takes a lot of time with large mailboxes because you have to follow it separately for each mailbox.
Supervision is required because if you face any error then you may be in trouble.
Folder structure may be not similar as before.
Method 3: Automated tool for Thunderbird backup
MailsDaddy Thunderbird converter is the most trusted application software that helps you to create Thunderbird email backup in PST, EML, MSG, HTML, MHTML & RTF format. The software easily loads the bulk mailbox and provides accurate output in a local drive.
It also manages folder hierarchy after loading and exporting mailbox in selected mail format. After backing up Thunderbird mailbox, user can easily move and open in compatible email client.
Notable Features
Search mail option allows user to find and convert filter emails using different search parameter such as To, Cc, Bcc, From, Subject etc.
Use preview options before creating a backup of Thunderbird mailbox.
Support Thunderbird MBOX and Maildir file format so user does not need any other method or tool.
Save Thunderbird backup in EML, PST, MSG, HTML, MHTML & RTF format without any modification.
Conclusion
I have provided three different methods for creating backup of Thunderbird mailbox. Any user who wants to store Thunderbird email as a backup, this post gives them complete guidelines. You can also try the free demo version of the solution for creating Thunderbird email backup.
Read more: Resolve PST file corruption