Hard Disk
Hard Disk is also called hard disk drive, hard drive or fixed disk that is rigid non – removable magnetic disk with a large data storage capacity. It is faster and reliable than a floppy disk and it is a primary media for storing data and programs. It works as permanent storage as we know RAM is a volatile or erasable memory that gets erased when the power goes up. So, Hard disk is safer to store data for long-lasting.
Disk Errors
Hard Drive is the brain of a computer used for data storage. Errors caused in hard disk leads to the threatening of data security for the users. Hard Disk errors are caused due to numerous reasons like malware or virus attacks, Poor power supply, Internal error, Firmware error or Manufacturer faults, Corrupted operating system files, Physical damage, etc. These errors are called Disk read error that is common and encounters in Windows 10 which get detected while the process of reading Hard Disk.
Solutions to fix Disk Error in Windows 10
Disk Errors can be fixed by following these 4 steps one by one –
1- Startup Repair
Using Startup Repair feature, you can fix the Disk error. For this, you need Windows 10 installation disc, then make the USB drive bootable by using the software like Rufus or Win2USB then follow the steps –
1- Plug the USB drive or bootable device into your computer.
2- Press the power button to start the system and immediately press the Boot menu option key or you can enter the Boot menu by using the F12 key.
3- Select the bootable USB drive or "System repair or installation" by using up and down keys on the keyboard and then press Enter.
4- When you get Windows set up screen on then click Next and then click Repair your computer.
5- Select Troubleshoot >> Advance Option >> Startup Repair then wait for the system repairing mode.
6- Unplug the bootable device and restart the computer.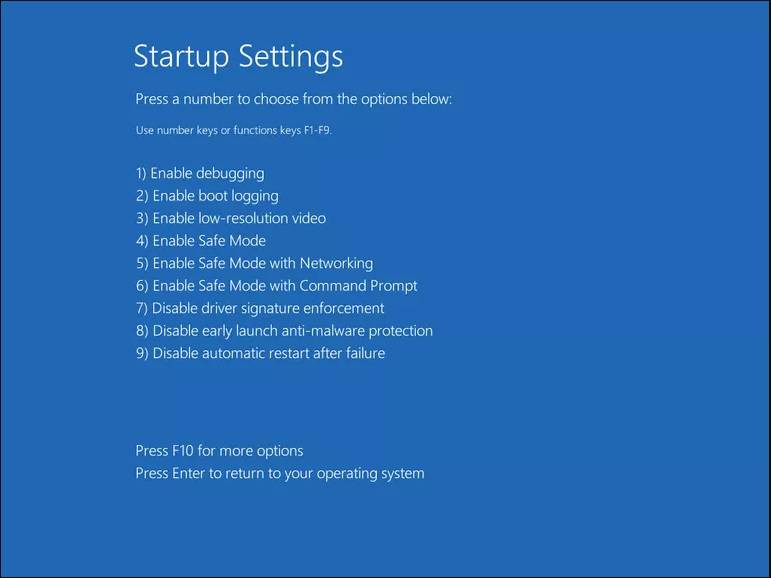 2- Security and Maintenance
Under security Maintenance, you know about the condition of your operating system and the problems related to your systems. It can help you to know more about the software and hardware issues. If you already boot your system with Windows then perform these steps –
1- On the Start menu type Control Panel and press Enter.
2- Open Control panel >> Security Maintenance. Then Click Maintenance to expand its contents.
3- Scroll Down and look under the Drive Status, you will see All drives are working properly.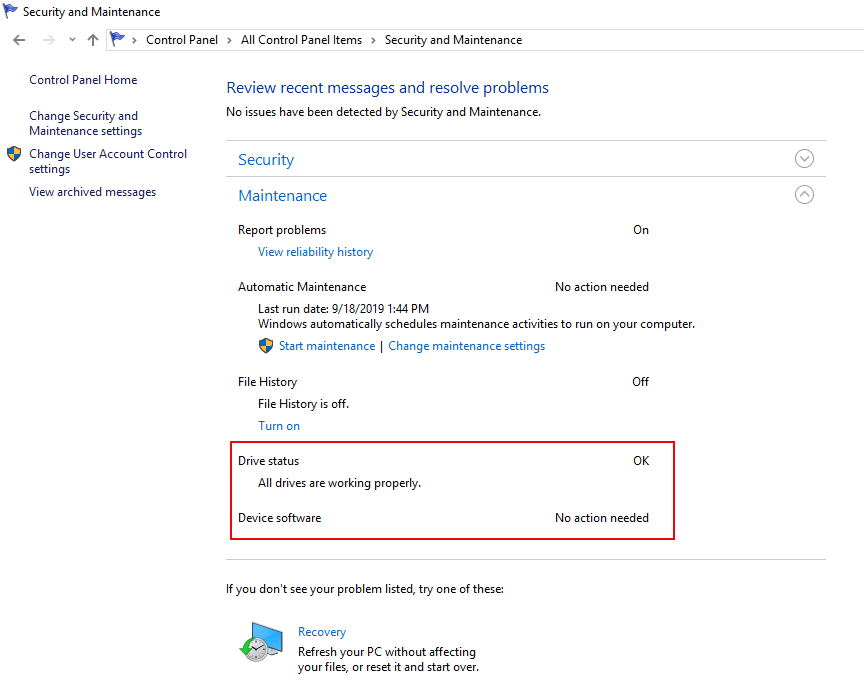 3- Use CHKDSK
Windows have a tool called CHKDSK utility which is used to fix the problematic or logical file system issues and bad sectors that are causing Disk Errors. CHKDSK fixes most of the issues and makes Hard Drive accessible. Follow these steps-
1- Go to the taskbar and click the search icon and search Command Prompt.
2- Then right-click on the Command Prompt and select Run as Administrators, when Prompted click YES.
3- In Cmd window type chkdsk X: /r /f where X is the external hard drive and r and f are CHKDSK parameters. Click on Enter to scan and repair the Disk.

4- Use PowerShell
Windows 10 has the feature to access the Windows Power shell to fix the disk error by using Repair – Volume command. Here are the steps-
1- Go to the taskbar and click the search icon and search Windows PowerShell.
2- Then right-click on the Windows PowerShell and select Run as Administrators.
3- In PowerShell Command line type Repair-Volume C-Scan where C is a drive letter or volume, By running the command your system scans the Hard Drive volume for issues and press Enter to proceed.
4- If the results show error then type Repair-Volume C –OfflineScanAndFix and press Enter.
5- After running commands restart the system.
6- Then type Repair-Volume C-Scan to check the errors have been fixed or not.

Conclusion
Disk Error is a relatively painful and frustrating problem for computer users. To avoid this hard disk error, check your device on a regular basis using CHKDSK and hard drive monitoring system.