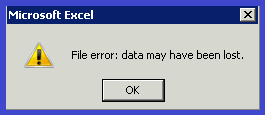 Microsoft offers a powerful program MS Excel to maintain and organize data sets. Using its formula and other features you can quickly complete any hard work. Excel helps businessmen in developing future strategies. According to these points, we can say that MS Excel plays a very important role in business & industry development.
But sometimes users are troubling with different types of errors in it by which they unable to access their Excel file database. One of them Excel errors is "File Error: Data May Have Been Lost". Now users are troubled with this Excel file bug and want to know the accurate solution to resolve this. I am here to resolve this problem. Here I will describe all the tricks that will help to quickly resolve your difficulty.
Reason Behind This Excel File Error:-
There are many reasons by which the Excel files get corrupted and start presenting Excel file error data may be lost, such as:-
1:- Excel version issue.
2:- Due to Virus or other malware attacks.
3:- The Operating system becomes corrupted.
4:- Excel file becomes corrupted.
5:- Due to unexpected shutdown or power failure.
6:- Mishandling Excel files.
7:- Issue in Hard disk.
How to Resolve Excel File Error "Data May Have Been Lost":-
However, there are always ways to resolve errors. Follow the below technique to solve this Excel sheet error:
1:- Use Same Excel Version:-
Sometimes versions face some problems with each other and prevent files from opening. Users face problems when they tried to open any older version Excel sheet data file in the new outlook version. In this condition, users should open it on the same excel version.
2:- Use Open and Repair Trick:-
To fix this excel file error, use the inbuilt open and repair trick. This is the developed repair feature in MS Excel and can be utilized to repair the Excel file. Follow all below manual steps to fix file error: data may have been lost:
A: Open a new Excel sheet and hit on the Open tab.
B: Go to File option >> choose Open option >> click on Computer.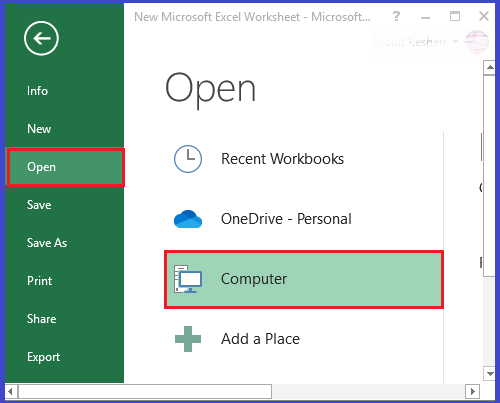 C: Now choose that excel file in which you getting an error >> Click on the drop-down arrow >> Hit Open and Repair…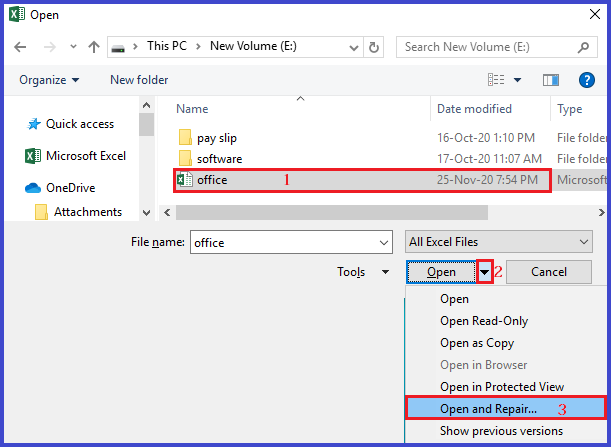 D: Now select Repair to recover excel sheet or choose Extract Data if Excel was previously unable to repair the workbook.

E:- Now save the file in XML Spreadsheet or HTML format and then convert it back to the normal format.
Conclusion: This is all about the fixing Excel File Error "Data May Have Been Lost" technique. Here I tried to provide all possible methods to resolve this error. I hope this will much helpful for you to get rid of the Excel error easily.
Read more:- How To Resolve Outlook Spell Check Not Working