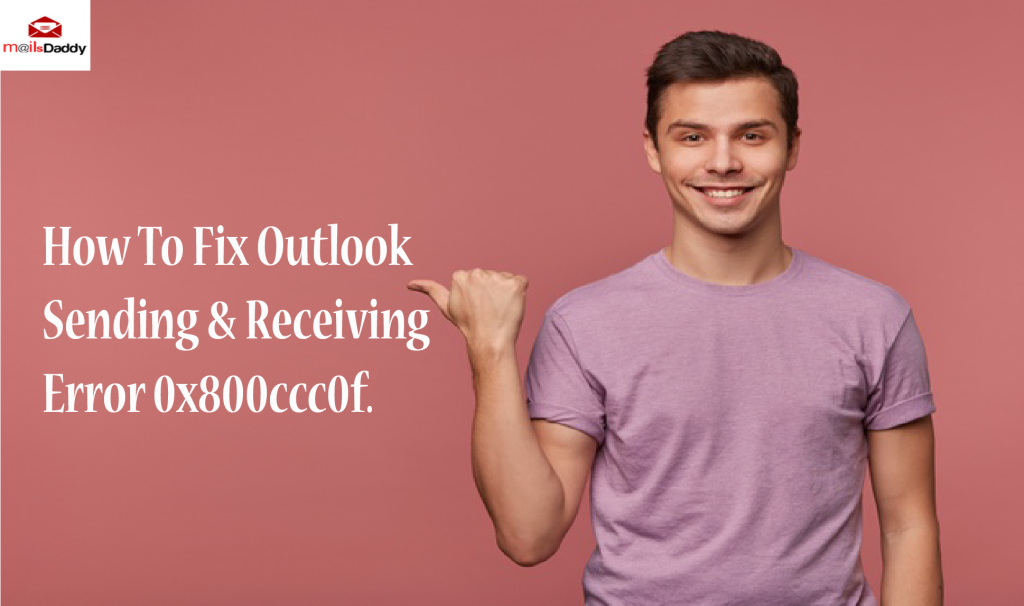 As per the user's feedback and reviews, anyone can't deny that Outlook is the most popular email client. At present Microsoft Outlook is a highly recommended email client by businesses and industries. It provides multiple advance feature so that users easily engages with Outlook and easily work on it.
Sometimes users are suffering from different types of problems in Outlook that abort some activities on the regular basis and one of them is a sending and receiving error 0x800ccc0f. To resolve this Microsoft Outlook error users search and follow multiple techniques. Here we will discuss that when we face this bug and how can we get out of the problem? Let's start!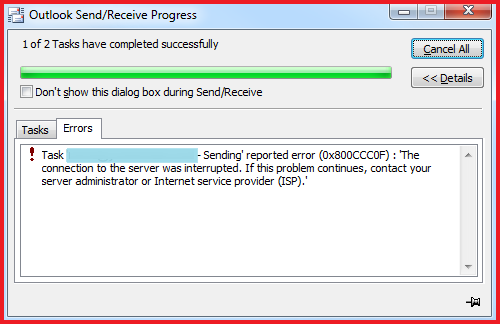 Reasons Behind Outlook Error 0x800ccc0f Message:-
Generally, users are facing the 0x800ccc0f error when SMTP-based email sending or receiving operation fails.
"Task '……. – Sending' reported error (0x800ccc0f): The connection to the server was interrupted. If the problem continues, contact your server administrator or Internet service provider (ISP)"
There are multiple reasons due to which this Outlook error occurs. Some of them are:-
1:- Slow internet connectivity issue with MS Exchange server.
2:- Maybe something problems in Outlook account settings.
3:- Outlook profile or Exchange Server may get corrupted.
4:- Maybe any firewall is blocking Microsoft Outlook outgoing & incoming messages.
5:- Sudden power failure.
6:- Due to the oversize PST file.
7:- OST file may get computed.
How to resolve Microsoft Outlook Error 0x800ccc0f:-
After discussing all the possible reasons for error we will know how we can get up with this type of problem. Follow all below guidelines step by step to handle and resolve this occur:-
1:- Properly Check Internet Connectivity: First of all check the internet connection stable or not, if it is not stable then troubleshoot the network connectivity issue. Also, verify Wi- fi signal and internet cable connection.
2:- Check and Update Outlook Profile: There may be some problem with the Outlook profile setting causing users to experience this 0x800ccc0f error. Here check for password authentication, server name, POP3 or SMTP server address, etc. If you do not know exactly where the problem is in the Outlook profile, then create a new Outlook profile.
3:- Deactivate Antivirus on Windows Firewall: Antivirus software and Windows firewall can the reasons for this error. Therefore, disable both of them. For this,
A:- For Windows Defender:- Open Setting and choose Update and Security >> Select Windows Defender and disable Real-Time Protection.
B:- For Windows Firewall:- Open Control Panel and Choose Windows Firewall >> Select Turn Windows Firewall on or off  >> Choose Turn Off Windows Firewall.
4:- Start Microsoft Outlook in Safe Mode: To start MS Outlook in safe mode follow these steps:-
A: Right-click on the Start button and hit on Run.
B: Now type Outlook.exe /safe, and finely click on the OK button.
5:- Clear up Suspicious emails from Outlook: Sometimes some suspicious email is the cause of this Outlook error. For this search and delete all doubtful emails.
6:- Repair Corrupted OST: If your OST file gets corrupted then first use ScanOST.exe Outlook tool. If problems still persist in our Outlook OST file users OST to PST migration tool to repair and convert the OST file database into PST format.
7:- Maintain Outsize Outlook PST file: If PST file size is larger than the maximum size limit that users can suffer from this Outlook error. For this, you can choose an exact PST Splitter Tool to break large PST file into small PST files.
Covering It Up:- This is the complete information to fix Outlook Error 0x800ccc0f. I hope this article is much helpful for you to resolve the 0x800ccc0f error.
Read More:- Method to fix Microsoft Outlook error 0x80070002