Outlook creates an OST file that you can use in offline mode. OST file is the copy of data stored in the MS Exchange server. You can make the changes in the OST file but synchronize once you get online with the Exchange server. But in some situations, it doesn't get synchronize and it shows some errors. Outlook Synchronization error – 8004011d-526-80040115-0 is also an error that you get while synchronizing with the server mailbox. In this case, you won't be able to access the OST file. Even if you try opening that file you get this synchronization error in Outlook.
Why you get this error message 8004011d-526-80040115-0?
The system is having an issue with the Network connection.
Exchange Server is down
OST file got corrupted
Power failure
Issues in Outlook profile
Whenever you deal with this problem and try to open an OST file then you get the "Sync issue" folder showing error logs like this: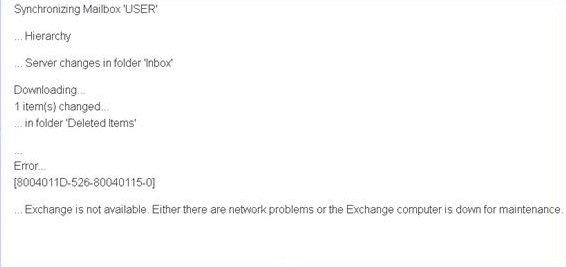 Here, it says that there is a problem with the Exchange server either due to network connection or the server down showing you the synchronization error of 8004011d-526-80040115-0. It clearly shows you an error so that you can resolve it.
So, now I will discuss how to fix synchronization error in Outlook.
How to resolve this error 8004011d-526-80040115-0?
You should have good network connectivity
Synchronize when the Exchange server is online or running well, server down may lead to synchronization Problem in Outlook.
Repair corrupt OST file. Might be due to the damaged file the OST file is not accessible and it is showing you an error message.
Recreating a profile can lead to solving this issue
OST integrity check tool: OST integrity check tool is an inbuilt tool to help resolve your issues related to synchronization as it detects all the issues related to synchronization. It compares the OST file and the data stored in the exchange server and solve the issues according to matching data.
If you are still not getting how to resolve the Microsoft Outlook synchronization error or if you are still facing a problem in rectifying the errors then Convert OST to PST using Best OST converter, a software that allows you to access data in PST format with the same folder hierarchy. It does not only convert or retrieve the data but also helps in fixing the issues of the OST file. There is no any kind of risk using this software. It is the easiest way to fix the errors.
You can try MailsDaddy OST to PST converter. A software with a lot of valuable features which is I have experienced using it. A tool that is very good and handy to use and also helps in resolving the Outlook Synchronization error-8004011d-526-80040115-0.
Conclusion: In this blog, I tried to talk about the Outlook synchronization error 8004011d-526-80040115-0 that you face while synchronizing the OST file with the exchange server and how to fix it.