Error code 0x204 – The question mark in its title is that this is an error in the operating system when using the Remote Desktop Protocol. However, whether, you are trying to access data from any OS like Mac system, Windows system, Android phone, etc.
A remote Desktop is a great tool that is used to access data, files, and other system apps. But when this problem is found on a system, it becomes an interruption.
One of the most common problems caused by error code 0x204 is not having Remote Desktop Protocol enabled on a Windows machine. In such a situation it can be reused by some manual procedures. Other reasons for this are firewalls, malware, non-verified third-parties, temporary file scams, etc.
A quick aspect may be the grouping of temporary files in the container, which can be corrected by removing UBF8T346809.com .microsoft.rdc. Folder.
Method 1: Enable Remote Desktop Protocol in Windows Machine
Let us consider the first error that may be the cause of the error code 0x204. This error has occurred when attempting to access files from Windows OS using the Remote Desktop Protocol, with Remote Desktop functionality not being enabled inside the Advanced PC setting.
You must complete this first step if the remote desktop on each device is showing the same error. To enable it in a Windows system, follow the steps below.
Computer / PC – right click and go to properties
OR
Press window + R and in the run window write "SystemPropertiesRemote.exe" and click on the OK button
Click Advanced System Settings – Remote Tab – Enable "Allow Remote Connection to this Computer" and then apply and click on OK button.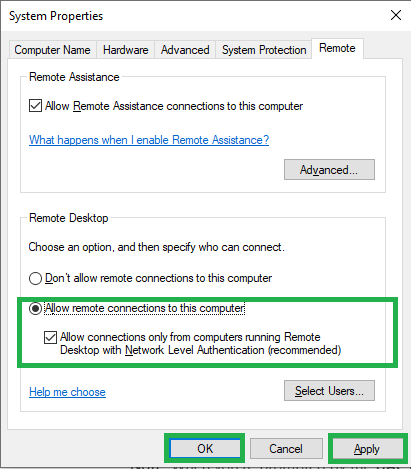 Now check that if the problem is resolved then enjoy otherwise go to another method.
Method 2: Allow an app through the Windows firewall
Windows Firewall allows users to access Remote Desktop and Remote Desktop (WebSocket) through the application menu.
Note: If you are using third party virus protection, the steps below will not apply. Conversely, they have to shut down the third-party solution for a moment to use Remote Desktop.
Here is a step-by-step guide to allow remote desktop protocols to communicate:
In the search bar, type Windows Firewall Defender and click on it.
OR
Press Windows key + R, type "firewall. cpl" and press Enter.
Click Allow an app or feature through Windows Defender Firewall from the left menu.
Click on "Change Setting" then scroll down and find "Remote Desktop" & "Remote Desktop (WebSocket)". Now check both the private and public box and hit on OK button.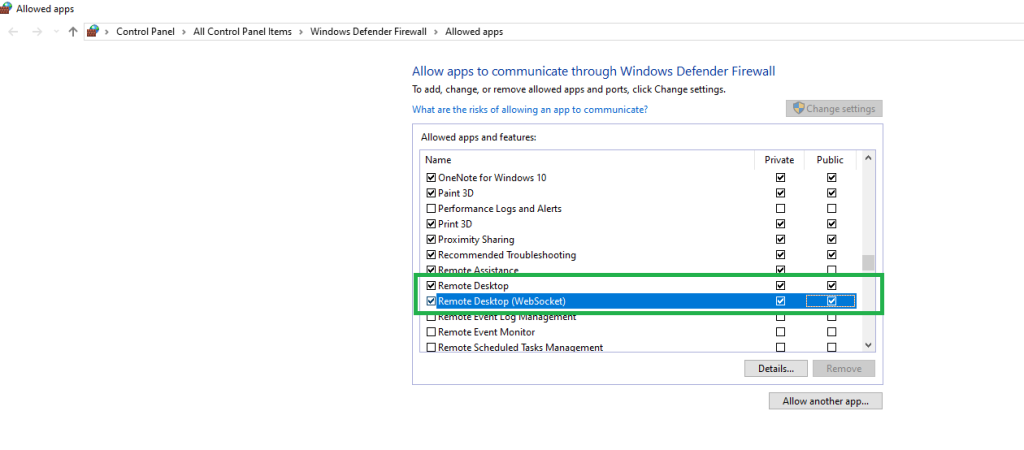 Now restart your Windows system and check if the problem is resolved, If not then proceed to the next method.
Method 3: Update device driver to fix error code 0x204
Through this, the user can update the driver who is responsible for this remote desktop error. To update the driver follow these steps –
Open Device Manager in the search bar and find the Device Manager and click on it.
Click on the System Driver at the bottom – upgrade all drivers on the remote desktop.
Method 4: Disable Third-party protection or Uninstall Unwanted program
As shown by users, the problem of error code 0x204 of third-party virus protection often arises which is known to facilitate the system.
In such a case, the user can disable real-time security for some time. For this, click on the taskbar icon >> Right-click on your protective shield and disable real-time.
Press Windows key + R, type "appwiz.cpl" and press Enter.
Go to the Programs and Features menu, scroll through the list of installed applications, and locate unwanted programs you don't know or have had any other firewall protection.
Note – Do not use two protections on the same system. Because one shield can act as malware for another shield.
Method 5: Removing the Temporary Folder of Remote Desktop in Mac
If both practical and professional are with Mac OS, then it is very likely that there are corrupt files in your system in the temporary folder used by Remote Desktop applications that are hindering the establishment of the connection.
Turn off the remote desktop and go to the Finder icon in your Mac system.
Inside the Finder app, search for group containers and then press return to get the result.
Inside the group container folder and right-click on UBF8T346G9.com.microsoft.rdc and choose  "Remove to bin".
Now restart your Mac and check Remote Desktop Error 0x204 whether it is completely fixed or not.
Last Word
This post will help you to fix the remote desktop error code 0x204 and again you will be able to communicate with Windows and Mac OS. Before doing each method, read it completely once.
Read About: Switch Offline & Online Work in Outlook