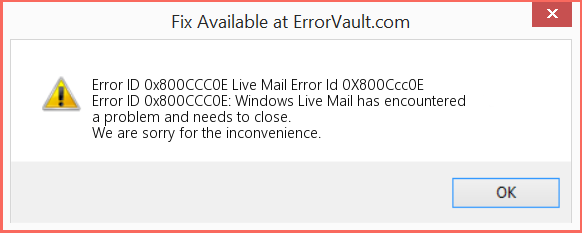 Windows Live Mail Error ID 0x800ccc0e is the most formidable error that prevents the user from accessing the mailbox. This happens when an application is unable to connect to the server due to a socket issue, it throws an error.
In WLM, it is also known as XP E FAILED TO Connect. If any user has faced this problem and wants to solve it then the below method helps you to get rid of error 0x800ccc0e.
Problematic Cause of Windows Live Mail Error 0x800ccc0e
We have already read that a socket problem (or a configuration with the wrong port) is the common cause of a failed connection. But before solving the problem here, we also know the other aspects of the problem, due to which this error occurs in Windows Live Mail.
Weak internet connection
Expired Antivirus
Due to a new update from Microsoft
Changes by Administrator
To go further, check these queries first.
How to fix error 0x800ccc0e in WLM?
The stated error Interrupted retrieving, storing, and sending email messages when the user's application (eg Windows Live Mail) cannot connect to the server. In such a situation, the server has to be alerted from where the e-mail server is transmitting and sending data as well as which parameters are being used.
Therefore, to eliminate this error 0x800ccc0e from the root, users can ensure it by giving some special commands. Let's know –
Use CMD to check mail server connection
Click the Window button + R and type cmd in the Run window and then press Enter or you can directly search for cmd in the taskbar search window.
Type command: telnet smtpmailserver.domain.com 25
Here "smtpmailserver" will be your email service provider and the "domain" name will be your domain of the mail server
Re-check WLM server setting
Run Windows Live Mail window >> right click on your e-mail account (left-hand side) and then click on properties.
In properties window >>  Go to GENERAL TAB and ensure the USER INFORMATION are correct and the "INCLUDE THIS ACCOUNT WHEN RECEIVING MAIL OR SYNCHRONIZING" box is checked.
Go to SERVER TAB, (here some change may be different based on your e-mail server has an HTTP address) For example Hotmail server address go through HTTP. So, re-check the HTTP address in the Server URL box for your mail server.
If you are using SMTP & POP servers then confirm POP3 email server is correct or not.
pop3server.domain.com
Like smtpmailserver, here pop3server is the name of your e-mail provider for POP3 and domain is the domain name of your domain provider.
After that check the Outgoing server (SMTP server box).
Check Email login credential
We suggest that if the above mail server address is mentioned correctly then you need to check account details like name, address, and password, etc.
Create fresh account
Still, if you are facing Windows Live Mail error 0x800ccc0e then delete the account and add it again.
Run Windows Live Mail and right-click on your email account.
Select the Remove option from the drop-down menu and then confirm it by clicking on the OK button.
turn it off and restart the system
Open Windows Live Mail (WLM) again, click on Add Account.
Complete the setup information and verify that your 0x800ccc0e error is resolved.
The above methods are always successful in removing this error. But if it doesn't, we recommend that you save the data by converting it to other mail formats or transfer it to another EML-based email client like Mozilla Thunderbird.
To resolve Windows Live Mail error 0x800ccc0e and avoid the manual method, a user can also take the help of professional tools. As it is known from the manual methods, it requires some technical knowledge, so choose this last method to get rid of the error 0x800ccc0e.
Professional tool to Fix Windows Live mail error Id 0x800ccc0e
The data in Windows Live Mail is saved in EML format so the tool should also be able to convert EML files easily.
Users can use the MailsDaddy EML converter to prevent loss of data and solve the error 0x800ccc0e. This single solution allows converting EML files to PST, EMLX, MSG, HTML, etc. easily. Also being able to maintain folder hierarchy, header, attachments, and other mail information.
Without any technical knowledge, the tool can help the user to resolve Windows Live Mail error message 0x800ccc0e by converting the data from EML to any other selected email format.
Conclusion
I hope this post will take you to your destination and fix Windows Live Mail Error Id 0x800ccc0e. Here again, I would like to make sure that even a small change can cause you to face this problem so, read all the steps carefully. You can also use the demo version of the provided tool which converts the first 20 emails from each mailbox.

Read: How to convert MBOX to EML without Thunderbird?