Emails are the most appropriate way to share files with other users. At present, most of the users like to use Outlook for sharing emails with others. The PST data files help to store the entire data item from Microsoft Outlook, like- emails, contacts, calendars, notes, tasks, and much more. The PST files always keep maintaining the integrity of Outlook emails as well as also work like an Outlook backup.
The performance of MS Outlook depends on the size of the local PST file. It is not recommended to let your personal folder files grow too large since your performance and stability will be affected.
Along with this, sometimes users need to extract some selected or entire email attachments to maintain Outlook data files or personal needs. For this, they are searching an exact solution to extract attachments from PST file. Here we will discuss how we can extract attachments from the PST file. Let's know;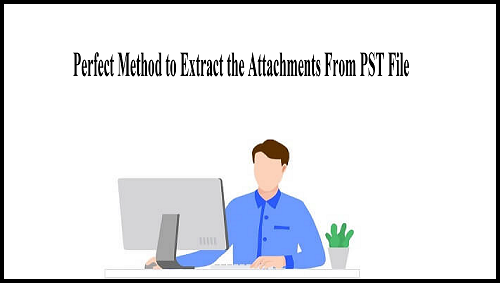 Tricks to Extract the Attachment from the PST Files
Using Three different suable technique users can extract the PST files attachments:-
Extract Attachments of Particular Email
Extract Outlook Attachments to A Folder Via VBA
Using PST Attachment Extractor Tool
1:- Extract Attachments of Particular Email:-
MS Outlook enables uses to extract and save all the attachments from a single Outlook email. For this users have to follow the below-given steps:-
Launch Microsoft Outlook and select the email by which you want to grab the attachments.
Now right click on that attachment file and select "Save all Attachments…"
Finely provide the location where you save those particular attachments.
Note:-For some particular emails this process is good but for the complete email attachments, this process is not beneficial.
2:- Extract Outlook Attachments to A Folder Via VBA
Microsoft Outlook also offers Microsoft Visual Basic for Applications. By using this users can grab attachments from PST files. For this follows all below given options step by step:-
a:- Click on Atl+ F11 to launch Visual Basic for Applications.
b:- Now ensure that VBA Macro already downloaded or not. If not then visit the below-given link
https://gallery.technet.microsoft.com/office/Save-attachments-from-5b6bf54b
c:- After downloading again open Microsoft VBA.
d:- Click on File >> Hit on Import File and select mAttachmentSaver.bas.
e:- Now go no that outlook item and select that emails which email attachment you want to export.
f:- Hit Atl+ F11 button >> Go on the Run option and select Run Sub/Userform.
g:- Provide Micro Name and Hit on Run.
h:- At last provide the saving attachments location and hit on OK.
Note:- Both processes are good for some particular email attachments but for complete email item attachments, this process is not beneficial. To extract multiple data item email attachments, both processes will be lengthy and there may also be a possibility of data loss.
3:- Using MailsDaddy PST Attachment Extractor Tool:
MailsDaddy PST Attachment Extractor Tool is a superb solution to extract complete PST file attachments. The software comes up with a simple GUI interface so that users can easily work on it and quickly extract the PST file attachments. Using this professional solution users can export the attachments of multiple PST files at the same time. No one can beat this software for scanning and get email items. It is also helpful to export the attachments by corrupted and inaccessible PST files. This well-programmed tool is much compatible to extract the attachments of ANSI and UNICODE PST files. There is no limitation of file size and email attachment size users can import the heavy PST file as well as export any size of the email attachments. The application is compatible to extract any type of attachments from PST files, like – PPT, EXE, HTML, ZIP, DOC, TXT, videos, images, audios, etc. The application support all edition of MS Outlook like- Outlook 2019, 2016, 2013, 2010, 2007, 2003, etc.
Free Demo:- Like each software, MailsDaddy also provides a free demo of this PST Attachment Extractor Tool. The trial version of this tool enables users to grab the first 20 email attachments from each folder.
Wrapping Things Up: This is the complete information of extracting the attachments from PST files. If you want to grab some important then you can try the first two manual techniques. For complete PST file extraction try MailsDaddy PST Attachment Extractor Tool. It will much helpful for you.
Read More:- How to hide and delete strikethrough emails in Outlook?