Microsoft Outlook has many advanced features of saving, sharing, or deleting email that a user can use to organize Exchange email. Apart from this, arranging the fairs through IMAP and POP3 is a different feature found in Outlook.
When deleting emails in the IMAP account, it becomes strikethrough instead of deleting. Due to which the user gets a different feeling of error because it is neither going into the trash nor completely deleting.
Today we are going to tell here three such methods which you can get rid of this problem by using different circumstances according to your convenience.
3 Methods of hiding and deleting strikethrough emails in MS Outlook
Here we are providing every single step to the user to solve this strikethrough email problem which will help you to separate the required mailbox.
Method 1: Use purge option to remove strikethrough emails
If you are running an online email server then you can use this and delete strikethrough outlook email.
How to enable the Purge option in Outlook 2007?
Go to Tools >> Customize >> Commands tab,
Under Categories >> Edit >> drag the Purge command to a toolbar.
Follow the below steps to permanent delete items
Select IMAP e-mail account >> Go to Edit menu
Point to purge Deleted Messages >> choose one of the following options:

Purge marked item in the inbox: Only certain folder email marked for deletion.
Purge Marked Items in "(your account mail id)": Only this email id item purged.
Purge Marked Items in All account: All items marked for deletion with an IMAP mail server.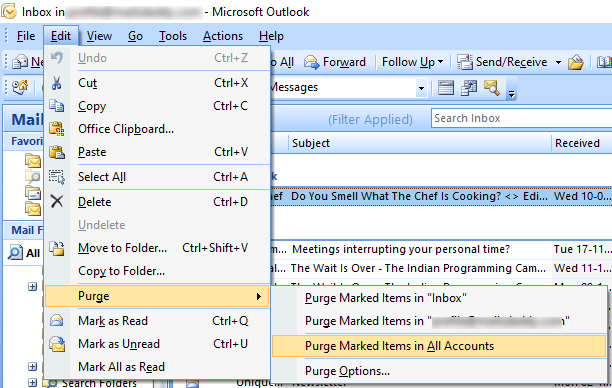 Set purge option on auto-deletion
Select IMAP e-mail account >> Edit
Point to Purge Deleted Messages >> Choose Purge Options.
A dialog box open: Internet E-mail Setting
On the General tab, under Purge Options >> Check "Purge items when switching folders while online check box".
Method 2: Hide deleted or strikethrough emails
Follow these steps to hide deleted emails in outlook 2007
Click View tab >> Current View >> Check "Hide Messages Marked for Deletion".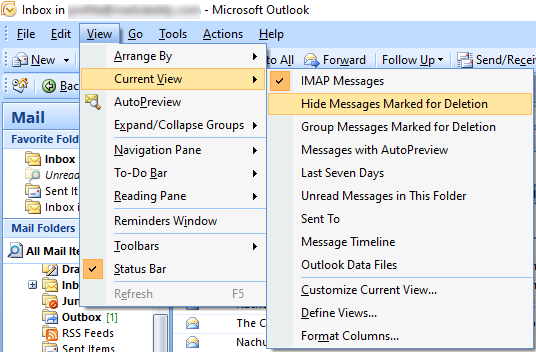 Go back on View tab > Reading Pane >> set your desire pane: Right, Bottom, or Off.
Method 3: Use filter option to hide or delete strikethrough emails
Apart from the above two methods, it is also another method by which you can easily set the filter option on strikethrough email.
On the View tab >> Current View >> Customize current view
Click on filter button >> Press Advanced tab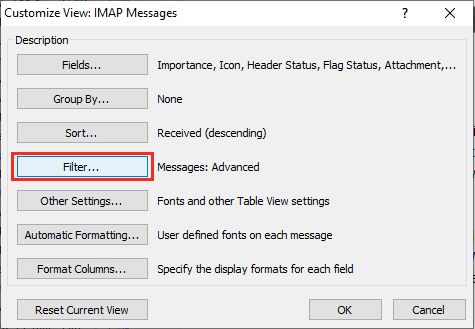 Under defining more criteria >> Press the dropdown field button and point to the All Mail field >> IMAP status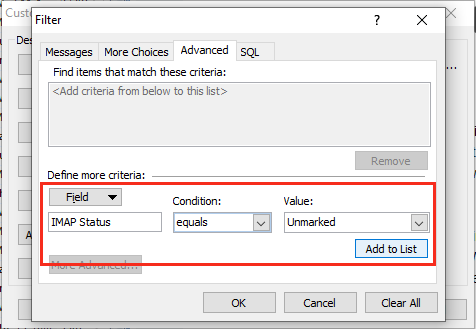 Now set a Condition: Equal and Value: Unmarked then click on Add to list.
All the above methods help each user to get rid of this problem and provide a free email count through strikethrough. However, this entire process was used on Outlook 2007 as most of the issue comes up in it. The phase is the same for other Outlook versions; only the first step of the beginning may be different.
Read:  Compact offline OST file in Outlook
Read: Recover .BAK file in Outlook