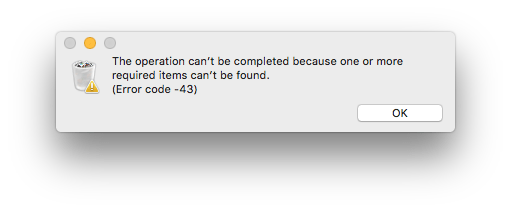 Almost everyone will be familiar with the error code 43 that comes in Mac OS because it is common errors that people, in general, have to face in using Mac. If you are not familiar with this then let us know that this error comes at the time of copying files/data or taking them into the trash. As a result, the user sees the message on the Mac screen "The operation can't be completed because one or more required items can't be found. (Error code-43)".
Why it came out – Error Code 43?
Specific reasons for this error can occur on Macs such as incomplete download, when files are not allowed, files are open, files are restricted, and so on. Therefore, there is absolutely no need for the user to panic when such a bug occurs. Yes, it is definitely hindering your work, which can be avoided in the future with some precautions.
What can we do to solve the error code 43 issue in Mac OS?
We have several manual methods to eradicate this bug, which will get rid of this problem 100 percent.
Check Disk Utility
Reset NVRAM
Force Quit Application
Use Terminal Command Window
Method 1: Check Disk Utility
Disk Utility In an inbuilt feature Mac system that can be very effective and useful, it would be best to adopt this method for the first time to solve small errors of high-disk quickly.
Navigate to the Apple menu and restart the system.
When it restarts, press and hold the Command + R key until you see the Apple logo.
Click on the Disk Utility option, and then click the Continue button.
Go to the sidebar and select the disk where the file you want to delete is located.
Press the first aid button and proceed with the disk utility.
Now different speeches can be given through this system:
The disk is about to fail i.e. you can buy a new drive because you will not be able to fix it.
There is no problem with your drive i.e. the problem is resolved and you can check the "Show detail" button to see the problem.
Overlapped extent allocation: If you encounter this error, you have a copy of multiple files in one place or most likely to be corrupt or it is located in the damaged folder.
The underlying task reported failure: When this report arrives, you restart the system and repeat the process once more.
Method 2: Reset NVRAM
NVRAM is a small memory on a Mac that saves settings and quick access information created by users. So after resetting it, there is a lot of hope that this problem will be relieved.
Turn off your system and restart.
As soon as the system boots, hold down the following keys simultaneously – Options, Command, P, and R; For about 20-25 seconds.
This will automatically reset some settings with the startup process. Now you can copy-paste your file again, or delete the file and confirm the error 43 is resolved.
Method 3: Force Quit Application
The "Force Quit Application" is the best way to quickly fix this problem due to a bug. Because instead of finding a solution of the error code, it prevents bugs that do not allow the file to be deleted.
Open the Apple menu and choose the Force Quit option.
Select Finder in the list and choose the Relaunch option.
Method 4: Use Terminal Command Window
The command is a good way to solve any error without losing time. So use the below command to delete some files, it will also resolve the file with error.
Open your Mac terminal and type the following command: rm (space)
Drag and drop files that return error 43 and then press "Enter".
All files that you drag and drop from your system will be automatically removed. Go to the saved location of the file for testing.
How to avoid error code 43 in MAC?
Whenever you transfer your data from one place to another, do not create any interruptions until the process is complete.
When deleting files from your Mac or Trash, allow the process to complete.
Use trusted third-party applications.
Do not try to abruptly restart or shut down your Mac.
Secure your important data through an admin account.
Keep all applications up to date and update the Mac regularly as far as possible
Avoid corrupting Mac storage and do not keep inappropriate data in the bin
Do not overwrite it repeatedly by saving files under the same name or folder.
You can easily solve Mac error 43 using the methods given above. So try all the steps carefully one by one.