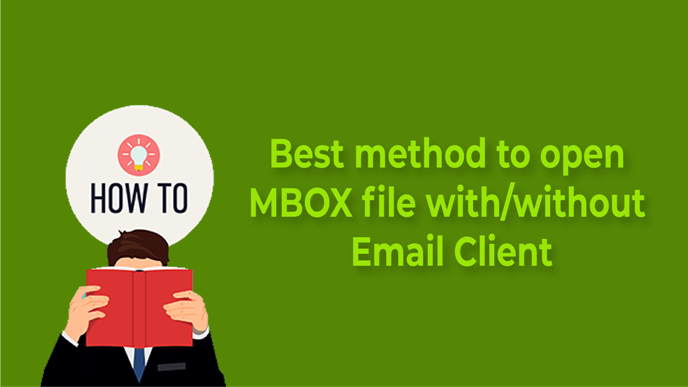 MBOX file is used in various popular email clients including Gmail, Webmail, and Apple Mail. But what to do when we want to open MBOX file in some other system and this email client is new to us.
In such a situation, the user may have trouble reading and re-composing emails, which is not profitable at all from a commercial point of view.
MBOX needs to be exported to the client to be opened and read quickly. This post is published to address this problem "How to open .mbox file?". We provide a way to open mbox file in multiple email clients without any hassle.
How to open MBOX file with an email client?
25+ email clients support MBOX file format but here we will talk about some popular email clients in which importing mailboxes is very easy.
Try Best MBOX file Viewer to Open.mbox file Instantly Without any Email Client Installation.
25+ email clients support
Clear Preview w/t Attachments
Support all Windows OS
Open MBOX File into Apple Mail
Run Apple Mail >> Click on File Options
Select Import Mailbox to open.mbox file in Apple Mail.
You will see a dialog box, check the option "File in MBOX format" and click on the Continue button.
In the newly opened window, navigate to the MBOX files location and click the Select button.
Wait for the process to finish when MBOX to Apple Mail import process is done. Once the import is done successfully, a message will be prompted >> Click on Done.
The imported mailbox will appear in the Import folder and show the same folder name as its source MBOX file folder name.
Now you can view and read your mbox file by opening it in apple mail.
View MBOX file in Mozilla Thunderbird
To import MBOX files in Mozilla Thunderbird, we have to install a Free add-on tool on Mozilla Thunderbird called the Import-Export tool. After installation, restart Thunderbird and follow the below steps.
Go to a folder in which you want to import MBOX file to Thunderbird >> Tools (Press Alt button to show menu bar) >> Import Export Tools >> Import MBOX file
In the prompt window, enable "Import directly one or more MBOX files" then press the OK button.
Browse the location of MBOX data and click on the OK button to initiate the import process.
That's it.
Open.mbox file in Entourage
Firstly, if your data is in Windows OS then move it to Mac OS by using a pen drive or external hard disk and then follow the steps given below.
Go to File tab >> Import option >> Contacts or Messages from Text File >> Import Messages from an MBOX
Browse the file and press OK.
Second method: Simple drag and drop the MBOX file into the Entourage message window.
Note: The time due to MBOX file will remain unchanged when you do the second method.
How to open mbox file in Gmail?
To import MBOX data to Gmail, users need to follow multiple steps which require some technical knowledge too. But this process is also completely free of cost that helps you to migrate large MBOX files to Gmail. (Read here 3rd method)
View MBOX file into Microsoft Outlook
This method is a bit technical as here the user has to first migrate the MBOX data to PST file format. The manual process for this is very big and also takes a lot of effort.
For instant output, you can convert data to PST in a few simple clicks using the MailsDaddy MBOX file converter, and then you can open it in MS Outlook.
Best method to open MBOX file without any email client
The above method can help you when you have an email client but if not then you need not despair. Here, you can use MailsDaddy Free MBOX Viewer Tool to read multiple MBOX files in a few simple clicks.
This single tool supports all .mbox, .mbx and .mbs based email clients and provides an original preview of emails. Users can install the free MBOX file Viewer tool on any Windows OS and can view it instantly without any hassle. After opening MBOX file, if the user feels that migration is needed, you can also upgrade the software and export mailbox to PST, Office 365, EML, MSG, HTML, etc.
Step to open large MBOX file
Download MailsDaddy Free MBOX Viewer tool and install it on any Windows OS edition.
Run the software and press the Browse/Add button to load MBOX file.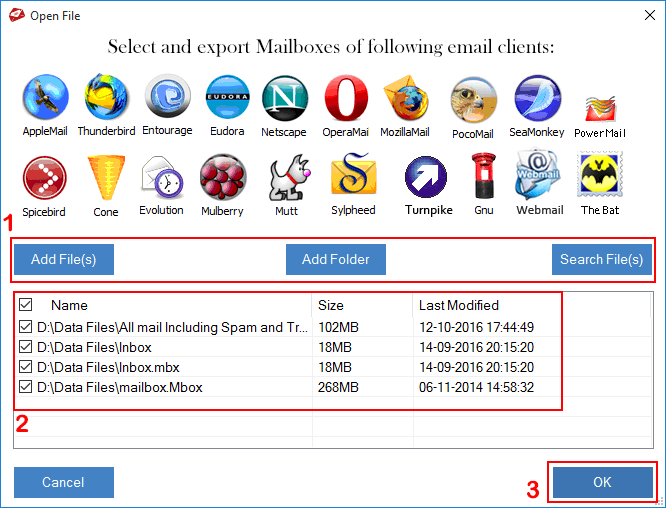 After loading the data, you can click on the folder and open any email on the right side of the software.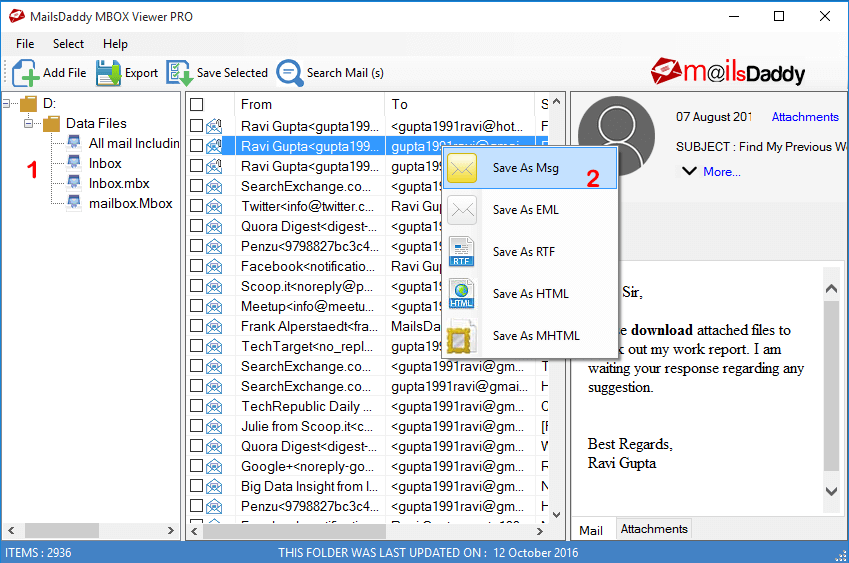 You will see that this process is much easier and fast to open .mbox file messages. With the pro edition of the software, you can go further and export mailboxes in various file formats.
Conclusion
Here I have described step by step procedure to "How to open MBOX files with/without an email client?". The entire post is technically free from complicated steps. If you have more queries regarding this post or tool you can contact our support team 24X7.
Read more: Manually migrate MBOX to Office 365
Read more: Convert WebMail emails to Outlook