Did you find the solution how to import MBOX into Outlook? If not then do not be discouraged, this post is the solution to all your questions. In this, an attempt has been made to explain in a very simple way that by which method users can easily convert MBOX to Outlook 2019, 2016, 2013, etc.
After reading the post, you will have no hitch in importing MBOX data into Outlook.
Reason of MBOX to Outlook import process
As we know MBOX is a simple text mail or message which one cannot directly open in Microsoft Outlook. Hence, it is necessary to convert the mbox file to the relevant format of Outlook.
Apart from this, users are getting more attracted to it due to the better features of Outlook.
A mbox file contains only mail and attachments, whereas Outlook also contains contacts, calendars, etc.
Outlook allows opening and reading data even in offline mode.
Best way to import MBOX files into Outlook
There are lots of methods available to export MBOX data in Outlook 2019, 2016, 2013, 2010, and other earlier versions. But the user will choose the best possible method which is completely accurate and also simple.
This is the essential reason why people prefer to use third-party tools instead of the free MBOX to Outlook conversion process.
Try Best MBOX to Outlook Converter tool to convert MBOX to Outlook PST, Office 365, EML, MSG format and get more benefits
Unlimited Conversion
100% Secure Output
Complete Migration
Another plus point of using it is that it offers many other export options (Office 365, EML, MSG, etc.) in addition to importing data from MBOX to Outlook.
MailsDaddy MBOX to Outlook Converter
It is also known as the MailsDaddy MBOX converter tool that easily imports MBOX files to Outlook PST format with full accuracy. The tool never falls during the migration of large and multiple mailboxes. Users can install and run the converter on any Windows operating system and perform conversion from MBOX to Outlook.
This MBOX file converter tool has numerous features by which a non-technical get the desired output without any hard effort.
Steps to import MBOX data to Outlook
Download the MBOX converter tool and install it in Windows 10 or any other version you have.
Launch the application and press Add file button. It provides different options to load the MBOX folder and select one option to browse and load data.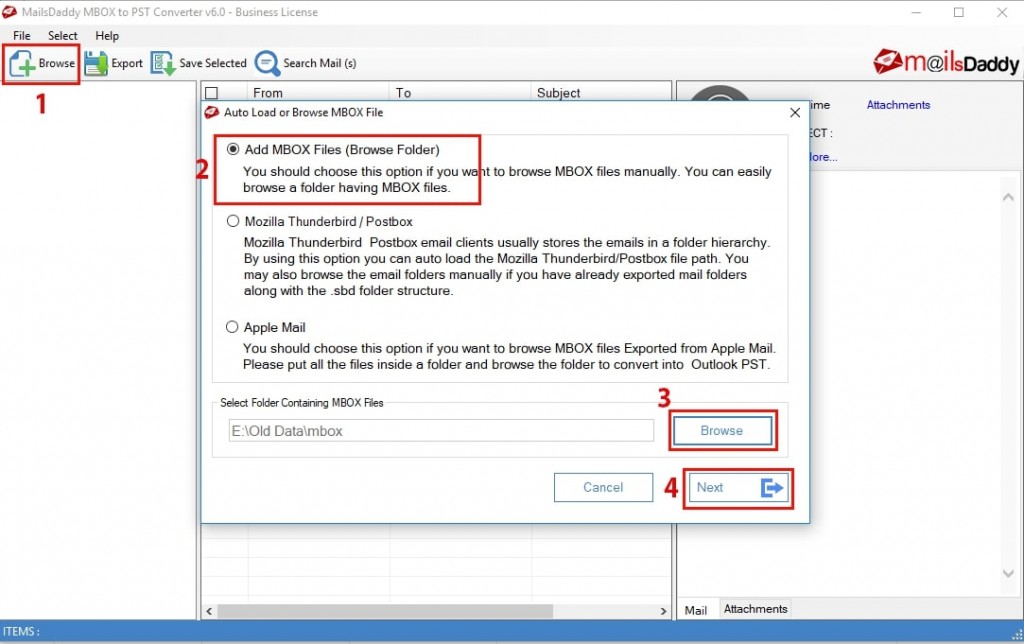 After loading & scanning the filter, click on export to perform batch migration from MBOX to Outlook.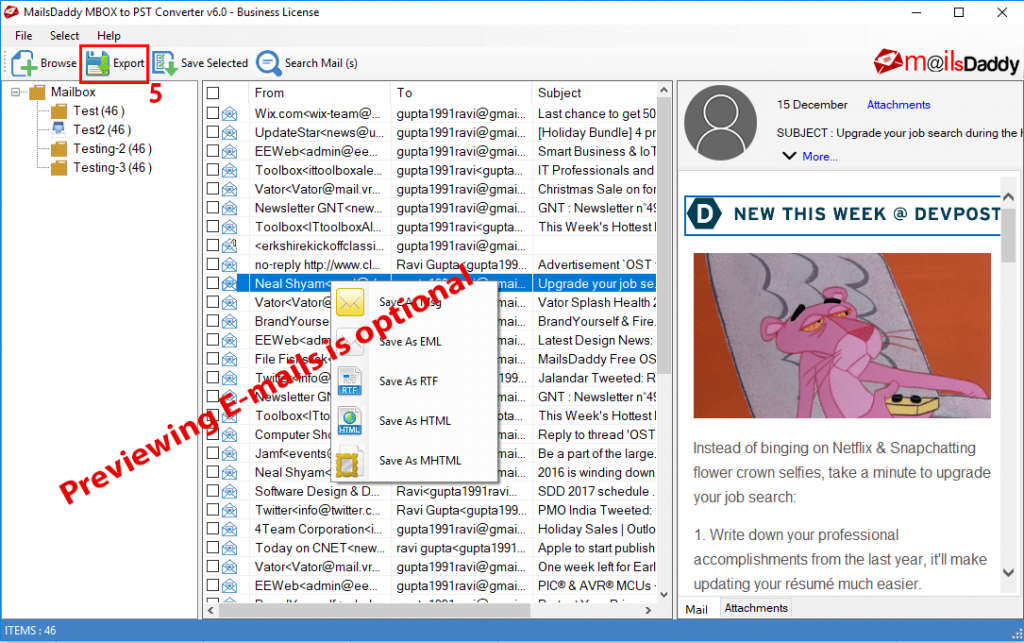 Select PST file format with one conversion option: Single PST or different PST.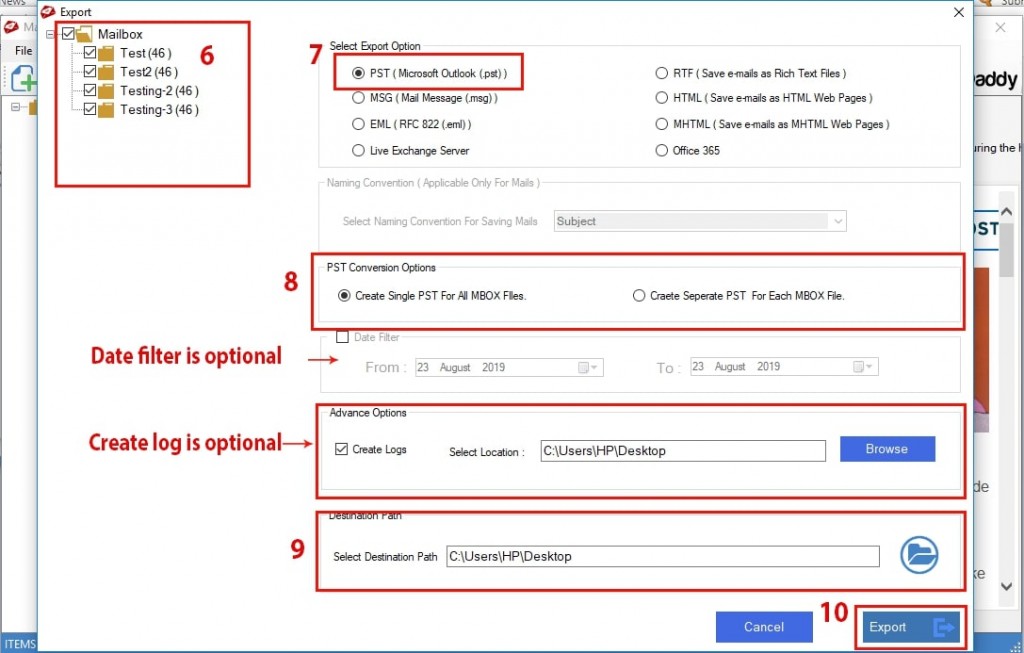 Save the destination of the converted MBOX file then press the export button to start the migration.
Manually migrate MBOX to Outlook 2019/2016/2013/2010/2007 – Step by Step Guide
Top 3 manual processes that users can usually use to open MBOX into Outlook. By following any manual method, users can easily import MBOX to Outlook.
Import MBOX email to Outlook using Drag n Drop
Use email client to export MBOX file into Outlook PST
Configure Gmail to Import large MBOX file to Outlook
Method 1: Drag n Drop
Run Microsoft Outlook, if it is not installed and install and run it to access the MBOX file.
Open Mozilla Thunderbird >> Import and export MBOX email folder as an EML file.
In Outlook, create a new folder >> Drag and drop EML files into Outlook 2019/2016, etc.
Method 2: Use email client to transfer MBOX file to PST
In this manual method, the user's first task is to locate the MBOX file. Because some email client like Apple Mail, Gmail, etc does not directly provide MBOX file. So first export MBOX file from it then follow the below process. The complete process finishes in 3 phases:
Phase 1 of importing MBOX into Outlook: Move MBOX to Eudora
Install and configure the Eudora email client in the same system, in which MS Outlook is already installed.
Copy and paste mailbox (MBOX file) into the default location of Eudora and then change its file-extension like File.MBOX to File.MBX.
Phase 2 of MBOX to Outlook importing: Convert Eudora to Outlook Express
Launch Outlook Express >> Go to File >>Import >> Import Messages.
Select Eudora from the list of email applications and then click on the Next button.
Browse the default location of Eudora and select the '.mbox' file then press OK >> click on Next >> Next and Finish.
Phase 3 of importing MBOX into Outlook: Import Outlook Express to Outlook
Open MS Outlook, Go to the File tab >> Select Import and Export option.
In the Import-Export wizard, choose "Import Internet Mail and Addresses" then click on the Next button.
Select the "Outlook Express 4.x, 5.x, 6.x, or window mail" option in the list and press the Next button again.
Browse the location of Outlook Express and enable "Do not import duplicate items" then click on Next.
Select the location where you want to import MBOX file and then hit the finish button.
Method 3: Configure Gmail to Import large MBOX file to Outlook
In the third method, users have to install Thunderbird and Outlook in the local system as well as MBOX file is available into Thunderbird.
(You can use import-export add-on tool to import MBOX file into Mozilla Thunderbird)
Phase 1 of converting MBOX to Outlook: Ready Gmail account
Login into the GMAIL account >> Gear icon >> See All Setting >> choose "Forwarding and POP/IMAP option".
Enable the IMAP option under IMAP status and press the save button.
Phase 2 of opening MBOX file to Outlook: Setup an account with Thunderbird IMAP protocol.
Open "Mail Account Setup" and fill in the required Gmail account information and then click "Continue".
If any problems occur, click on "Manual Configuration Process" and check the port and server setup.
Incoming: imap.gmail.com, port: 993(SSL) or 143
Outgoing: smtp.gmail.com, port: 25(SSL) or 465
After the account is set up, create a new folder in it and select all the mails together and move them to it.
By doing this all the mails are automatically synchronized to the Gmail account so that you can proceed to the next step.
Phase 3: Importing MBOX file to Outlook PST
Go to the Gmail Profile icon and click on it.
Select the "Manage your Google Account" button >> Select the "Security tab" and turn on 2-Step Verification.
Click on App Password >> In the drop-down menu, select Other (custom name) >> Type Outlook and press the Generate button.
Once the password is created, save it from anywhere and hit "Done".
Launch MS Outlook to sync with Gmail.
Click on File Tab >> Account Settings Option >> New Tab.
Fill in Gmail account details and click on Connect button >> Paste Password >> Click on Connect again.
Once, it is successfully created you will see that the mailbox is synced with your Microsoft Outlook.
Note: The steps are slightly different from the newer and older version of MS Outlook.
Any user who adopts the manual method should be technically savvy as it requires a lot of support. This method cannot be relied upon excessively as it is long and completed in many steps. There have also been cases where the data is damaged even after the process is completed or there is a fear of losing the data while moving the MBOX to Outlook.
How to open MBOX files in outlook after converting mailbox?
You have seen 3 manuals and a straightforward method to export MBOX in Outlook. Now if you have PST files then how a user can open them in MS Outlook. We describe it here:
To open MBOX in Outlook, run MS Outlook and click on File tab >> Go to Open >> Select Open Outlook Data Files.
Browse to the PST file where you save it and then click on the OK button.
After performing these steps you can easily open MBOX data in Outlook 2019, 2016, 2013, 2010, and earlier versions.
Conclusion
The whole process lets a novice user open MBOX file in Outlook 2019/2016/2013/2010/2007 without any hassle. Any member who wants to migrate MBOX files to Office and Live Exchange mailboxes can also take advantage of this software. There is no hesitation in using it, it is completely safe to import mbox to outlook.
These swift methods let the user import mbx to outlook and convert MBS to outlook as well. For the first experience, you can try using a free demo of MBOX converter that converts the first 20 emails from each mailbox.