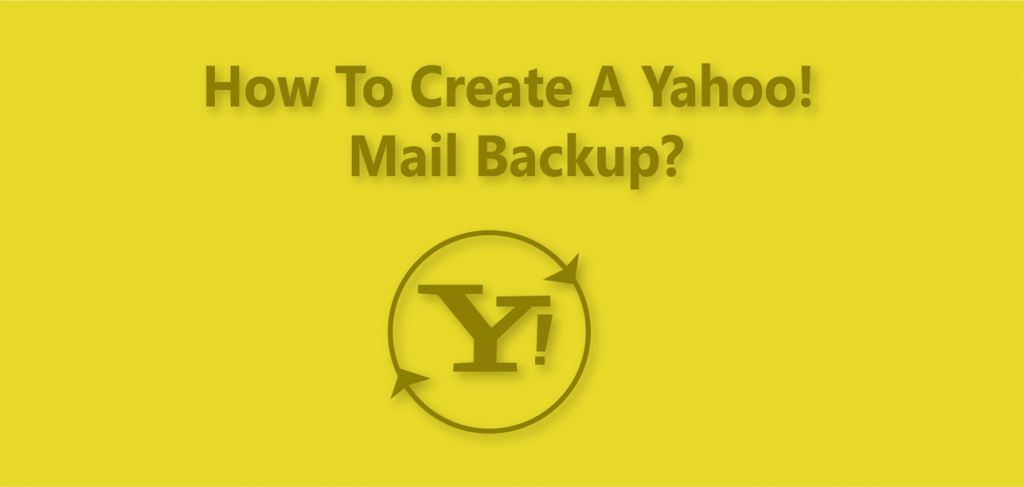 How to back up yahoo mail is a big question for users because Yahoo doesn't provide a download backup facility like Gmail so how we can do it, this question can bother anyone. This article will be helpful for everyone who wants to Yahoo! Mail backup.
Before knowing about yahoo mail backup let's have a look at yahoo mail.
What is Yahoo! Mail?
Yahoo! Mail is a web and cloud-based email client and messaging solution. Yahoo Mail allows users to stay connected to email with instant email alerts from web servers and any device. It is easy to access via a Smartphone.
Yahoo Mail Plus is an upgraded version of Yahoo Mail, and it is paid.
Yahoo! Mail and Google mail, both are used for personal and business communication by email. Yahoo! mail and Gmail both work the same way but Yahoo has some extraneous features including news, recent updates from social networking sites, and even trending topics. Google Mail, on the other hand, is focused only on the email page.
Why do Users need to backup of Yahoo mails?
Backing up yahoo mail is not much required but sometimes it is important to avoid problems that can damage your yahoo mail data.
There are several factors that make it necessary for you to back up Yahoo Mail.
Hackers can attack Yahoo Mail accounts at any time.
In case of data loss due to mischievous elements on the online platform.
The free service can be stopped by Yahoo at any time.
Deleting old messages or messages will be received after the mailbox reaches its maximum storage limit but old messages may be important.
To move to Yahoo! Mail the data to any other offline email client, and so on.
How to create a Yahoo! mail backup in your system?
There is no direct solution for yahoo mail backup like Gmail because yahoo mail does not have a download mail backup option. So only alternative methods are available for Yahoo! Mail backup.
Here are some alternative methods-
Forward an email to another email address.
Backup via MS Outlook in PST file format.
Method1. Forward an email to another email address.
For forwarding mail, users must have another trusted email account, even if there is another email client installed on the system. Select each mail and forward them to the new trusted email id for backup. It is simple but backing up Yahoo Mail account is also not a permanent solution. Also, it is a lengthy process that the user can get confused as to which emails are being forwarded.
Method2. Backup via MS Outlook in PST file format.
In this method, the process will be completed in three steps but it is a perfect solution for yahoo mail backup.
Step1. Generate App Password for Third-Party Apps (Outlook desktop)
1:- Log in to your Yahoo Mail account and click Account Picture and Account Info.

2:-Now choose Account Security and scroll down.
3:- Go to Other Way to Sign In section and click on Generate App Password.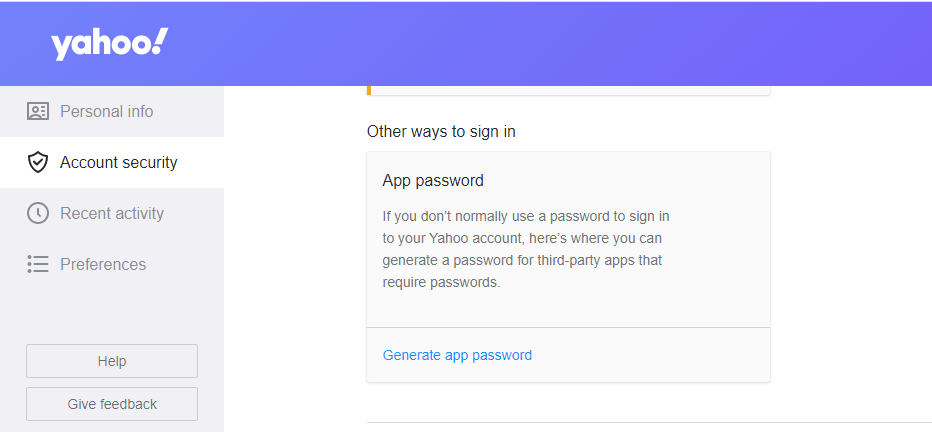 4:- Enter the application name and click on generate password.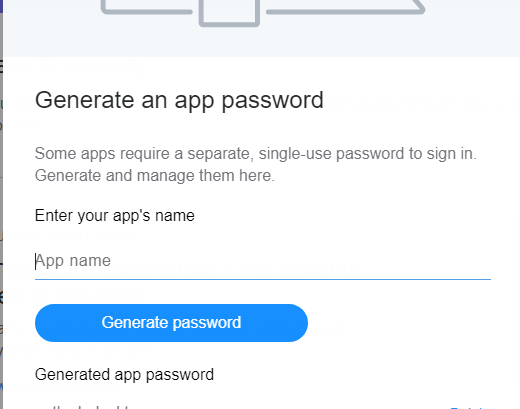 5:- A code will be generated for the app automatically after you click, copy the code, and press Done.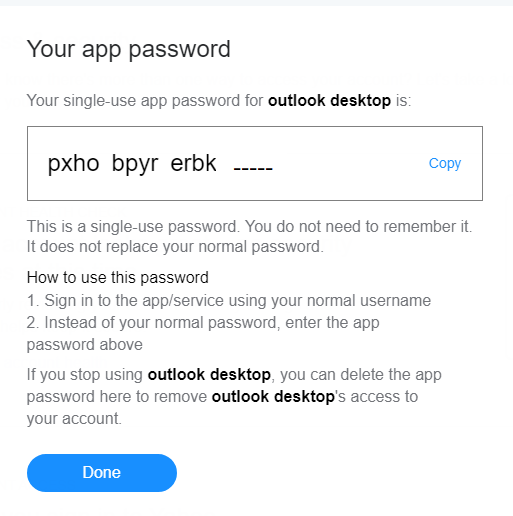 Step2. Configure Yahoo! Mail in Outlook.
Launch MS Outlook, then go to File and select the Add Account option.
Enter Yahoo Mail account and click on Connect button
In Password section enter/paste the already generated app password and hit on connect button.
Select Done at the end of this step.
Step3. Export Yahoo Mail Data to PST File Format
Follow this step – File > Open & Export > Import & Export.
Select the Export to a file option and go to the Next button.
Select the Outlook Data File (.pst) option and then hit Next.
Select the folders to export and press the Next button.
Browse to the location to save the exported file as PST and then enter Finish.
Now Yahoo! Mail data backup is ready in PST file format.
Read More:- How to Manually Convert AOL mails to Outlook?

Read More:- Resolve "Cannot open particular Outlook items when offline"