What is Evolution Mail & why is important to convert evolution to outlook
Ximian developed Evolution Mail 1.0 in 2001, at that time there was no particular e-mail client for Linux. Which provide essential functionality and better features to corporate and enterprises users. Plus, Ximian offered the Connector plug-in to help the user connect to Microsoft Exchange Server.
Its next version was released Evolution 2.0 in September 2004, it is considered to be the official part of GNOME. It has the email, address book, calendar, task list and note taking facilities, similar to Outlook. It's the latest version 3.28.2 release in 9 May 2018.
But Evolution Mail is less popular as compared to MS Outlook, as well as Microsoft provides updates of MS Outlook as soon as possible.
Evolution Mail files location:
C:\Documents and Settings\Administrator\.evolution\mail
In other words, Evolution hold data into MBOX format, which is also used by the over than 30 mail clients. But It's not more stable & secure then Outlook PST data file as well as MS Outlook provides more flexibility, regular updates or advance features compare to Evolution.
So it is clear, why MS Outlook is the first choice of the users. Now the question is "How to migrate Evolution to MS Outlook". When you use a third party tool, this type of migration is not too complicated, but if you go with a manual conversion then it has to face many problems.Below are some possibilities that may occur if you go with manual migration.
Pros.
It is free of cost
Cons.
Too much time taking process
Attachments & photos may be damage
Technical knowledge required
Need extra application (Eudora) to convert Evolution mail to Outlook.
Backup required of MBOX data.
How to choose the best tool for exporting Evolution mail to Outlook
Here, some major points are necessary to choose the best tool for importing Evolution mail to Outlook like….
100% reliable and secure for converting Evolution to Outlook
The tool keeps folder structure and rich text of your precious data.
Zero error after that conversion.
Easily handle huge MBOX data.
Flexible & Effortless working process
User-friendly environment
All of above qualities are necessary for perfect migration from Evolution (MBOX) to Outlook (PST).
Straightforward tool to import Evolution mail to Outlook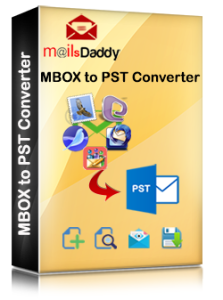 If you want secure migration and error free result then MailsDaddy MBOX to PST converter is the best choice as well as all major points are embedded in this application. The tool supports over then 30 email client like Apple Mail, Mozilla Thunderbird, Netscape, Evolution Mail, Sparrow, Entourage etc.
The tool takes 3 easy steps to import Evolution mail to Outlook– upload mbox data, preview of email, and export in PST.
Silent feature of MailsDaddy MBOX to PST converter 
Multiple add option to load MBOX data into the application
After upload, you can see the preview of each email
Save Email on the sport into the given format such as RTF, MSG, HTML, etc.
Search Email by its Name, From, To, & Date wise.Convert MBOX data into given formats
Bulk Export option to import all MBOX data to Outlook PST at once
Compatible with all Window & MS Outlook editions, whether old or new.
Note: The demo version is available on the official website, which is given to you to convert 20 emails from each folder. If you want to remove this limit then buy a related license of the device.
Conclusion: I showed you "How to import Evolution mail into Outlook". This is a better option to migrate the Evolution mailto Outlook without losing folder structure and formats. If you have any questions related to this article, then you are free to comment in the section.
Read – Convert Mac Mail to Window Outlook